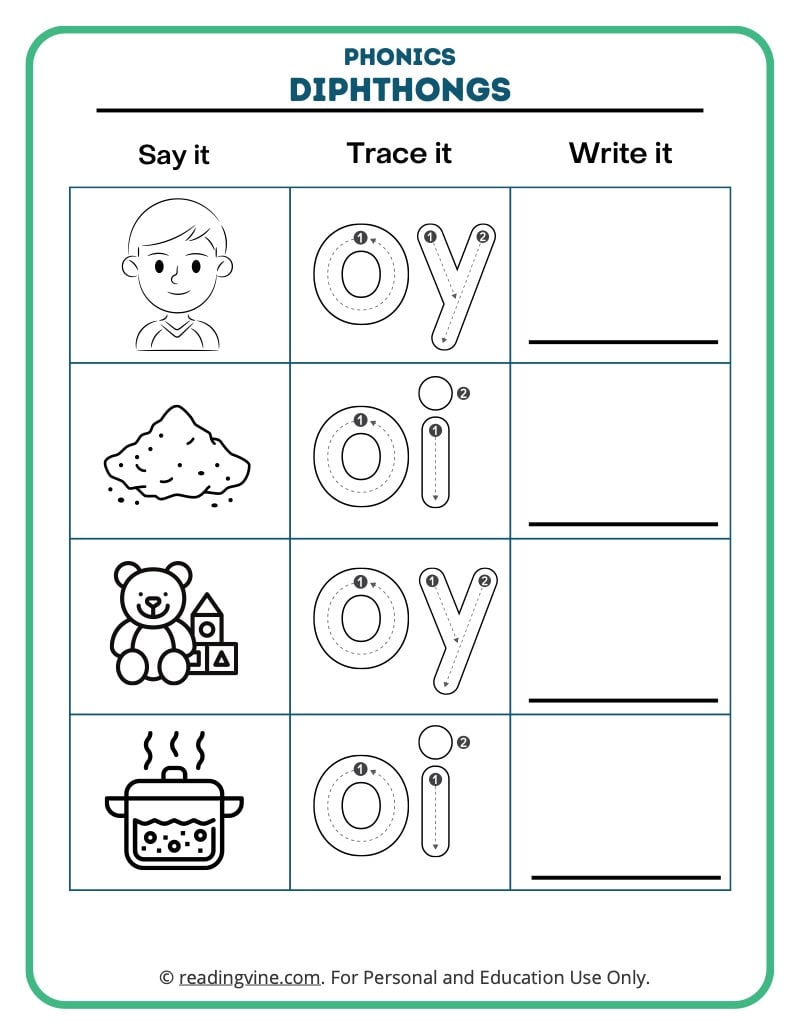 Welcome to our page all about diphthongs! As you read along, you'll learn about identifying diphthongs, the importance of this skill during early reading years, and you'll find some printable diphthongs worksheets for your students. To begin, a diphthong is a spelling pattern in which two vowels together make a new sound – not their long or short sound, but something different from either. It is also called a gliding vowel as it makes a new combination of two vowel sounds, almost like they were gliding together. This pattern can be tricky for students as it is different than the vowel patterns learned before, but you can introduce it just like you did with digraphs: two letters coming together to make a new sound.

There are eight commonly used diphthong sounds in English. Here are some of the most common spellings of diphthongs: the sound "ooi" spelled oi and oy, the sound "ow" spelled ow and ou, the sound "aw" spelled aw and au, the sound "oo" spelled oo or ue, and the sound "uh" spelled oo. Diphthongs are a more complex pattern. As readers begin learning these more complex sounds and patterns of vowels, they are able to decode more syllables and larger words.
There are many activities you can use to build diphthong reading and writing skills at home. For practice, explain to learners you will be sorting words by how diphthong sounds are spelled in each word (either oi or oy). Then say the words and have your learner sort them like, boy, Boyle, toy, toil, spoil, soy, or joy. You can also play this game by writing out the words and having students sort them into two piles. This game can be modified to play with other diphthongs as well.
We hope you found this short introduction to diphthongs helpful! To keep practicing, try out our printable diphthongs worksheets below!
Diphthongs Worksheets
Students will practice diphthongs by identifying the word, sounding it out, and fixing the spelling.
In this printable phonics activity, students will say the word in the given picture, identify and trace the diphthong, and write the diphthongs.