Magic E Words – VCe Syllables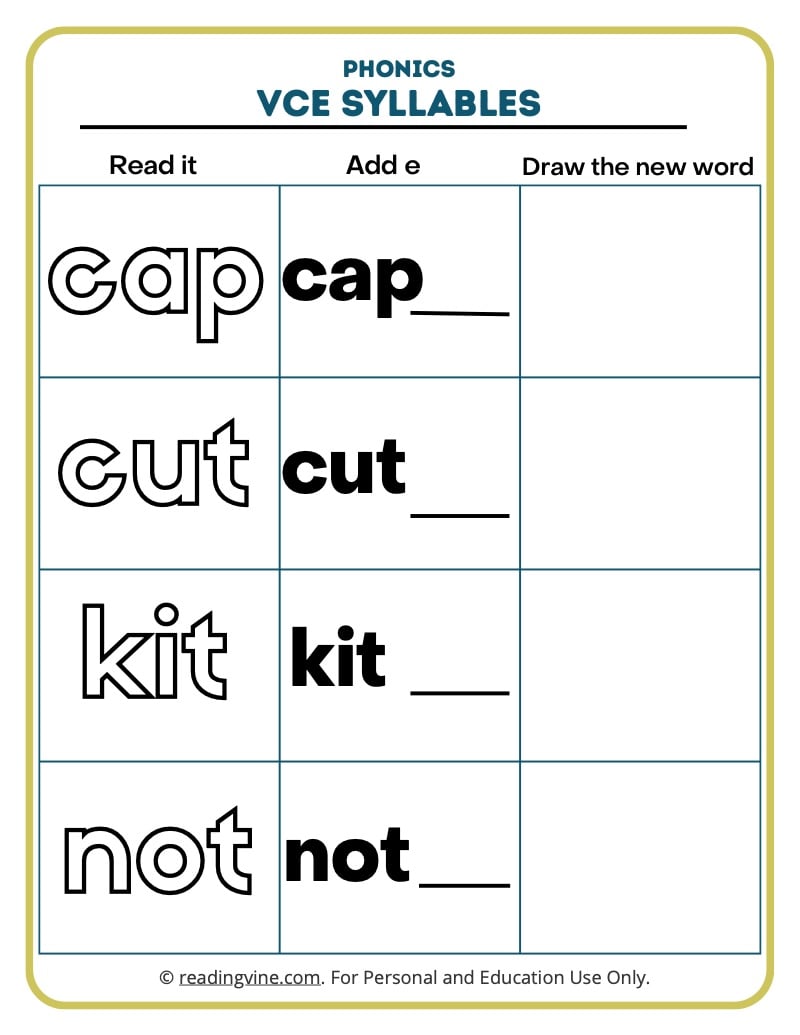 Magic E words are used in teaching phonics to describe a word that has a vowel followed by a consonant and then a silent E at the end (e.g, "tape). The silent E, or "magic E," often changes the pronunciation of the preceding vowel from a short sound to a long sound. For example, in the word "cake," the A has a long sound because of the silent E at the end. Another example is "bite," where the I has a long sound due to the silent E. The magic E rule helps young learners understand the relationship between vowels, consonants, and the silent E in forming the pronunciation of certain words.
Magic E words have a vowel / consonant / E syllable pattern in which the first vowel is long, and the final vowel E is silent. There is always a consonant sound between the first vowel and the final letter E. This pattern is a learner's first introduction to reading long vowels in words. Long vowel sounds are the same as the letter name of the vowel, a e i o u.
When teaching this skill to early readers, educators will often call the final E a magic or king E. This is because the role of the final E in this word is to indicate that the vowel sound before it is long, not short. We can mark words to show learners this by identifying the types of letters: consonant, vowel, consonant, E. It is also important to indicate that the final E is a silent letter. It is important to note that the pattern does not change when there is a digraph or blend in this word, such as in the word "chime". The pattern still is recognized as a long vowel I sound and a silent E sound at the end.
Magic E Words Printable Activities
Students will look at the picture and say the word, then mark the correct VCe syllables.
In this printable phonics worksheet, students will read the word and then add an -e on the end. Next, they will write the new word. This is great practice for identifying VCe syllables!