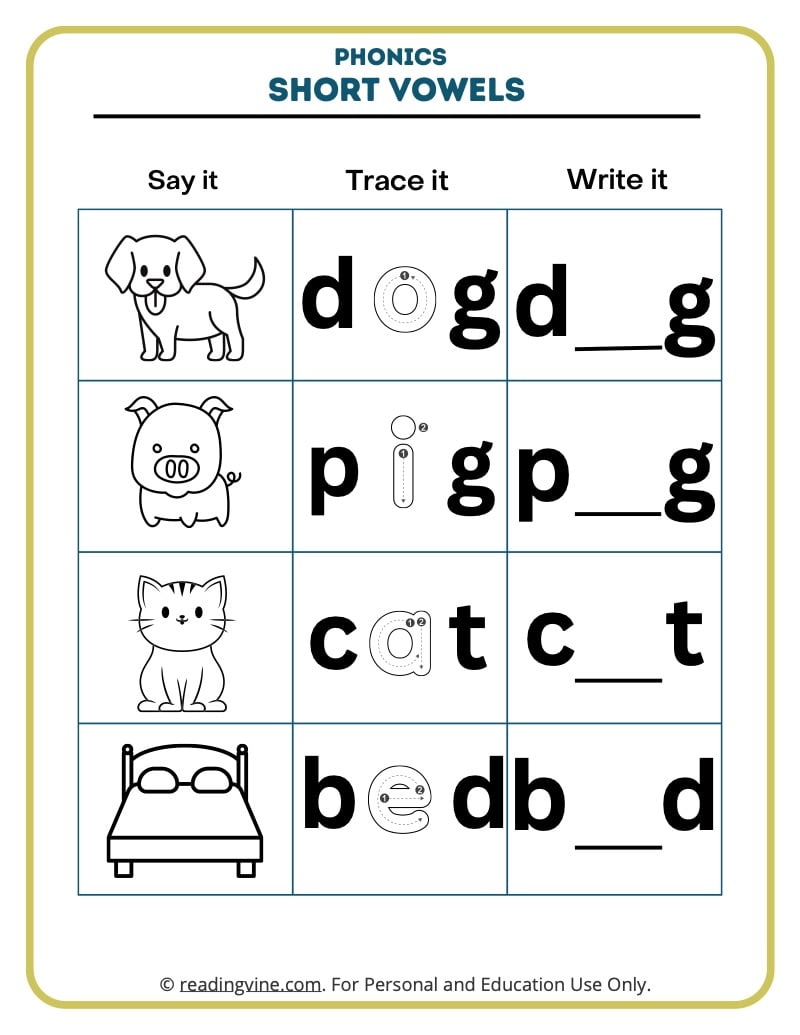 Welcome to our page on short vowels! Hopefully by the end of this article, you will have an understanding of the concept of short vowel sounds, why this skill is important to early readers and find some short vowel worksheets to practice with your learner. There are around twenty different vowel phonemes or sounds in the English language. Short vowel sounds are one of the sounds which vowels can make in English. They're called short vowels, as the sound they make is typically cut short, a quick breath of air as compared to long sounds, which can be stretched out with a longer breath. Short vowels are common in words, especially in closed syllable words, which are one of the first syllable patterns early readers learn. Typically, a vowel is short when it is between two consonants, like in the word top.
Short vowel sounds in the alphabetic principle, the rule that written letters correspond to spoken sounds, are one of the earliest skills learned. The introduction of vowels in reading instruction should be an anticipated and celebrated moment! Once you can name and write the sounds of vowels, you can start making words. No word can exist without a vowel sound, but some words exist which are only vowel sounds. One of the earliest syllable patterns students learn is a closed syllable, also known as CVC or consonant-vowel-consonant. In order to begin reading these simple words, students will need to know the short vowel sound made in this pattern.
There are many activities you can use to build short reading and writing skills at home. Here's an activity you can try: first, write out the five vowels on sticky notes or a piece of paper. Then, say a short vowel sound and have your learner point to the letter that makes that sound. Alternatively, say a letter name and have students point to the letter and say the short vowel sound. This game can be modified to be more challenging, try scrambling the letters or adding in consonants to the lists. As a learner advances, you can also use this game to have them identify the short vowel sounds they hear in words, such as pointing to the vowel they hear in the word cat. We hope this was a helpful introduction to short vowel sounds. Thanks for learning with us!
Short Vowel Worksheets
Students will practice identifying, tracing, and writing words with short vowel sounds in this printable phonics activity.
Students will be asked to circle and color the short A sound.