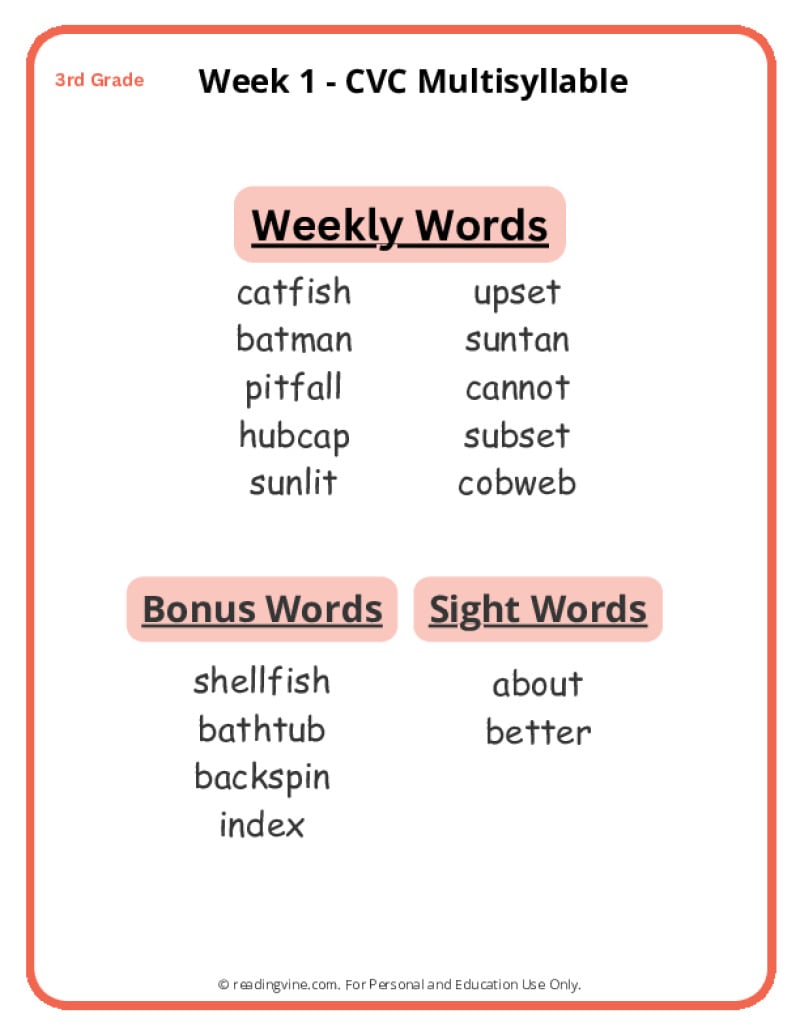 Welcome to our 3rd Grade Spelling Words section! The spelling program consists of 36 weeks of structured lessons, each focusing on specific phonics skills. The program begins with CVC multi-syllable words in Weeks 1-3, followed by CVCe word endings and vowel patterns in Weeks 4-9. Weeks 10-15 cover base words and irregular words, while Weeks 16-18 deal with Wr, Gn, Kn, and Mb patterns in words. Weeks 19-21 focus on homophones, followed by prefixes and suffixes in weeks 22-27. In Weeks 28-30, students learn about contractions, and in Weeks 31-36, they cover syllable division in words.
You'll find printable lists below for each week. If you're working on 3rd grade spelling words with your child at home, consider trying a few fun activities to reinforce learning. For example, you might try the following:
Word Scramble: Rearrange the letters of each 3rd grade spelling word and have your child unscramble them.
Word Hunt: Ask your child to find the spelling words in a magazine, book, or online. This will help your child to recognize the words and also reinforce their spelling skills.
Flash Cards: This is always a great way to reinforce learning. If your child spelled the word correctly, put the card in a "correct" pile. If they spelled it incorrectly, put the card in an "incorrect" pile. Rinse and repeat!
First 9 Weeks (1-9) Printable Word Lists
Second 9 Weeks (10-18) Printable Word Lists
Third 9 Weeks (19-27) Printable Word Lists
Fourth 9 Weeks (28-36) Printable Word Lists
Scroll To Top