Charlotte's Web Reading Level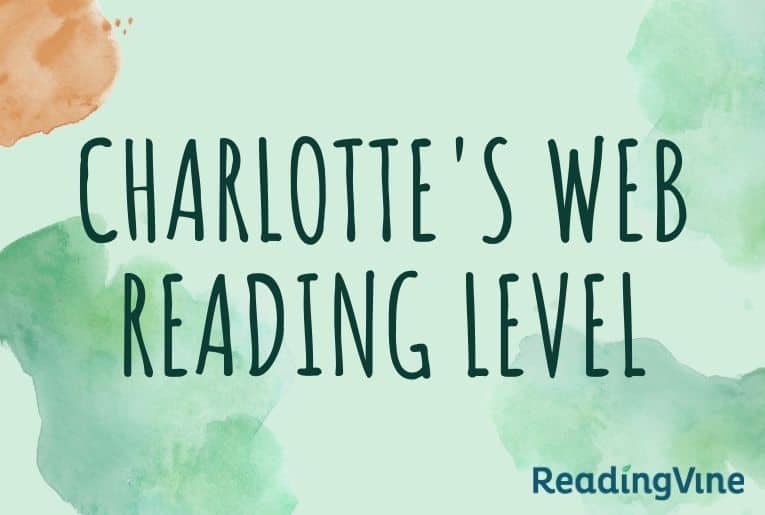 It's a jungle out there!
To understand the Charlotte's Web reading level, it's important to understand the story! Wilbur the pig is born the runt of the litter; his short life destined to end before it's barely begun. A hard fact of farm life. But, young Fern is determined to change that fact. She begs her father for the tiny, pink piglet and saves Wilbur's life, feeding him with a baby bottle and showering him with love.
Once he settles at Fern's uncle's farm, the real adventure of Wilbur's life begins. There, Wilbur meets Charlotte, a gray barn spider spinning a web in the corner of Wilbur's pen. An unlikely friendship develops between the two, and Wilbur learns some important lessons about love, loyalty and perseverance.
What age should a child read Charlotte's Web?
Charlotte's Web, by E.B. White, is a touching story, one most children will remember all of their lives. It makes a wonderful bedtime storybook, too. But, when will your child be able to read it independently? Let's check out its reading levels using some of the leveling systems your child's school is most likely to use.
Fountas-Pinnell Guided Reading Level – Guided Reading brings a group of children together under the guidance of their teacher or another adult. During Guided Reading sessions, the children tackle challenging reading material while learning new reading skills. Using this system with a scale from A to Z, Charlotte's Web rates an R.
Lexile Framework for Reading – Lexile levels match kids with appropriate books using a numbering system from 5L through 2000L, really fine-tuning the matching process. Charlotte's Web's Lexile level is 680L.
Reading Recovery – Reading Recovery is an early intervention program for struggling readers. This leveling system assigns Charlotte's Web a level of 26.
ATOS – The ATOS book leveling system rates books based on the age at which the average student could reasonably be expected to successfully read that book independently. Charlotte's Web's ATOS score of 4.4 means that the average fourth grader could read the book independently in the fourth month of that school year.
DRA – This leveling system matches kids with books, using a rating system that ranges from A1 through 80, based on their scores on a standardized reading test called the Developmental Reading Assessment. Charlotte's Web's DRA score is 40.
Other considerations
Reading level matters, of course. You don't want your child overwhelmed by a book that's too difficult, or bored by one that's too easy. But, there are considerations other than Charlotte's Web reading level when choosing material for your child to read. Here are some of them.
Message matters – In this contentious period in history, we want our children to see examples of everyday heroism. And, Wilbur is a hero. He's kind, selfless, determined and loyal. All of these characteristics make him a great role model for kids, even if he is just a pig. Charlotte exemplifies admirable characteristics, as well. She's a dedicated friend. She cares deeply about Wilbur. She honors her word. And, perhaps the most important message of all, Wilbur and Charlotte are very different from one another, and yet they can still be accepting of each other and become the best of friends.
Life and death issues – While Charlotte's Web was written in 1952, it doesn't pull its punches when discussing the fate of barnyard animals. E. B. White has Wilbur literally facing "the axe" in its very first scene. Later, the central theme becomes saving him from being turned into bacon. And, of course, Charlotte, like all barn spiders, only lives for a single summer. She dies near the end of the book, leaving Wilbur brokenhearted and distraught. These are hard issues for little kids to face, issues that don't usually make an appearance in most early children's literature. You'll have to decide if your child is mature enough to handle these topics, and if you'll be ready to continue the conversation about them when the inevitable questions arise.
Be ready to talk – If your child reads Charlotte's Web those serious questions we just mentioned will probably come up. Questions like: "Is that really where bacon comes from?" "Where did Charlotte go when she died?" "Will Wilbur die, too?" Answer your child honestly, but simply. Charlotte's Web is also the ideal platform to discuss important literary topics with your child. After he finishes the book, you can ask him questions about the story's theme, setting and characters, and point out why they're important to the story. Scholastic's Charlotte's Web: A Discussion Guide for Kids & Parents is a great parents' guide to the book, with a list of other conversation-starting questions to help you extend the learning beyond the end of the story.
Reading level vs. interest level – Regardless of the reading level it has earned, Charlotte's Web may simply be too "young" a book for your child. Consider this: Kids and parents reviewing Charlotte's Web on CommonSenseMedia recommended it for children between the ages of six and seven. That's a bit below its independent reading level. This means, that while your child could read the book successfully in the fourth grade, your nine-year-old might find the subject just a little bit childish and might need a book that better suits his "grownup" sensibilities.