Improve Reading Skills with Comic Books!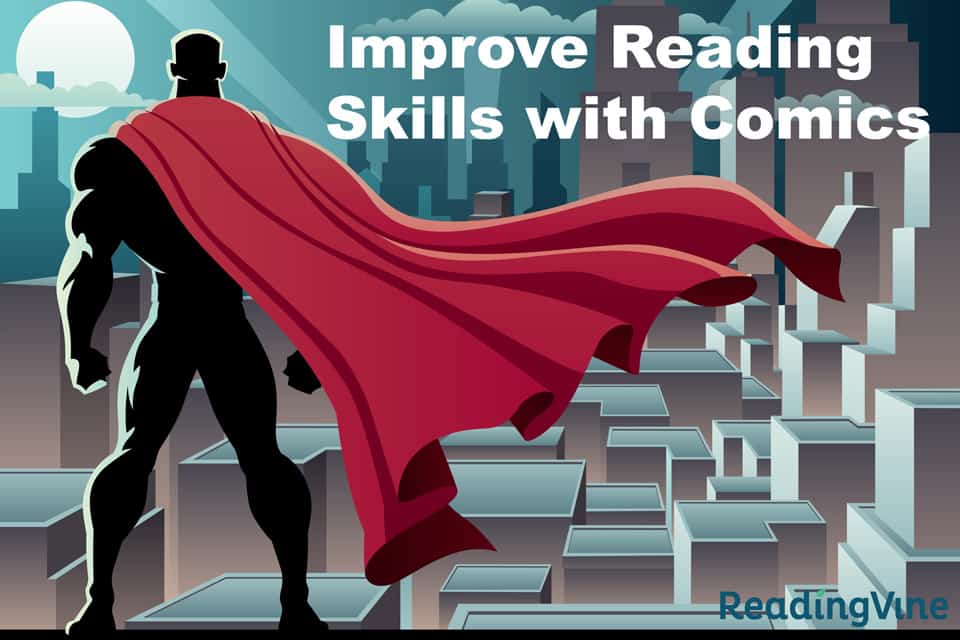 Reading practice is essential
If you're following this blog, then you've heard this before – and will probably hear it again: Nothing helps strengthen reading mastery more than practice. Practice is so important, in fact, that a 2000 report released by the National Reading Panel stated that the major difference between children who were good readers and those who struggled with reading could be measured by the total time they spent practicing reading. In other words, the more kids read, the better they get at it. As a parent, understanding that practice is so vitally important leads to another quandary: How do you get your child to actually sit down and practice reading? One answer: Improve reading skills with comic books!
Bring them on!
Comic books. They've been kids' summertime favorites for generations. There was a time when that was all that comic books were: A fun way to spend some time, but certainly not a serious form of reading practice. In recent years, that belief has changed. Practice is practice, after all. If it involves reading at an appropriately high reading level, then kids benefit from it no matter what form it takes.
And, no form of practice is more beneficial than practice that is engaging. If a child wants to find out what happens next, then he's really focused on the words he's reading and determined to get them right so he can follow the story. He also can't wait to pick up the next issue in the series. After all, his favorite super hero was dangling from a cliff at the end of the last one. He just has to know if she escapes and saves the world from doom.
To sum it up, if you want your child to read more, comics just can't be beat. It comes down to this: Engagement leads to better practice. Interest leads to more practice. And comic books offer both of these. Learn more about how to improve reading skills with comic books below!
Beyond motivation
We've just emphasized the importance of reading practice and the role comic books can play in motivating that practice. But, could there be other benefits to reading comics, as well? The answer is a resounding, yes! These benefits are so substantial. In fact, that many educators are now including comic books and graphic novels in their reading curriculum. Let's look at a few of the benefits comic books offer to new or struggling readers.
Comics speak in a visual language. If your child is a struggling reader, this can help him move through the story. The pictures will offer him clues to what's going on and help him make sense of the words he's reading.
Comics have traditional story structures. This gives your child ample opportunity to explore complex ideas such as theme, motivation, characterization and setting without having to struggle through difficult sentences or daunting paragraphs to get all the information he needs.
Comics can feel exciting – even subversive. That can be very appealing to a child. After all, from his point of view, it's not what the teacher "wants" him to read. He most likely won't even think of it as reading practice – just a fun thing to do.
Comics speak to kids. They bring up subjects of right and wrong and speak about standing up for what you believe. They even touch on some of the struggles kids are going through in school, with their parents and teachers, with their friends and in budding romantic relationships.
Comics help build vocabulary. Because so much of the story is literally told in pictures, comics provide the ideal medium for learning how to use context clues when a child is confronted with a new or unfamiliar word.
Not always child's play
It's important to keep in mind that today's comic books and graphic novels are not all created with kids in mind. Some of them are intended solely for an adult audience, with very adult themes and graphic violence. If you are looking for comic books that are age and theme appropriate for your child, start by asking his teacher for recommendations. Your local children's librarian should also be able to help.
Need more help on how to improve reading skills with comic books? Here are a few online resources that can direct you toward comics and graphic novels that are written just for kids:
If you're looking for a comprehensive guide to find comic books that your kids will like, try A Parent's Guide to the Best Kids' Comics: Choosing Titles Your Children Will Love. This title, by children's literature experts and library professionals Scott Robins and Snow Wildsmith, includes 100 age-appropriate books, and recommends another 750 titles for children from pre-kindergarten to eighth grade. (Please note: The link to the book above is an affiliate link. We earn a small commission if you purchase. Thank you!)
The reading-writing connection
Reading and writing are intimately connected. Succeeding with one can lead to mastery of the other. They are so interlinked, in fact, that the National Council of Teachers of English (NCTE) has concluded that instruction that interlaces reading and writing – including giving children "opportunities to write thoughtfully" – is "firmly linked" to successfully developing critical thinking and learning skills.
What does this have to do with comic books? Comics are a great way to get your child writing. How? By letting him make a comic book! Once he's read a few comics and caught the superhero or Manga bug, suggest he make up his own hero or heroine and write some heroic adventures all his own.