A Bread Famine
Reading Comprehension Activity
Author: John Muir
Chapter III passage: Founder of the Sierra Club, noted naturalist John Muir traveled to California for the first time in 1868. Once there, he was hired to accompany shepherds and a flock of sheep to summer pasture in the Sierra Nevada mountains. He kept a diary of the journey which he published in 1911. Students will read the passage and answer questions on the language and the details.
Topic(s): History. Skill(s): Summary, Context Clues, Figurative Language. Genre(s): Journal / Diary
Click for the passage & questions on one printable PDF.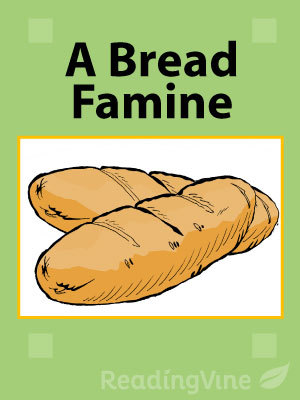 John Muir was a famous naturalist who would later organize the Sierra Club as a conservation organization. Prior to his fame, Muir went to California and was hired for the summer to travel with shepherds and their flock to pasture in the Sierra Nevada mountains. He kepy a diary of his trip. In this passage from the diary, the flock owner has not arrived with new supplies, and the group has nothing to eat but mutton.
—————————————
July 6, 1869
Mr. Delaney has not arrived, and the bread famine is sore. We must eat mutton a while longer, though it seems hard to get accustomed to it. I have heard of Texas pioneers living without bread or anything made from the cereals for months without suffering, using the breast-meat of wild turkeys for bread. Of this kind they had plenty in the good old days when life, though considered less safe, was fussed over the less. The trappers and fur traders of early days in the Rocky Mountain regions lived on bison and beaver meat for months. Salmon-eaters, too, there are among both Indians and whites who seem to suffer little or not at all from the want of bread. Just at this moment mutton seems the least desirable of food, though of good quality. We pick out the leanest bits, and down they go against heavy disgust, causing nausea and an effort to reject the offensive stuff. Tea makes matters worse, if possible. The stomach begins to assert itself as an independent creature with a will of its own. We should boil lupine leaves, clover, starchy petioles, and saxifrage rootstocks like the Indians. We try to ignore our gastric troubles, rise and gaze about us, turn our eyes to the mountains, and climb doggedly up through brush and rocks into the heart of the scenery. A stifled calm comes on, and the day's duties and even enjoyments are languidly got through with. We chew a few leaves of ceanothus by way of luncheon, and smell or chew the spicy monardella for the dull headache and stomach-ache that now lightens, now comes muffling down upon us and into us like fog. At night more mutton, flesh to flesh, down with it, not too much, and there are the stars shining through the cedar plumes and branches above our beds.
Get the passage & questions on one printable PDF.