African American Inventors: George Washington Carver
Reading Comprehension Activity
Author: RV Staff Writer A.A.
Born into slavery, George Washington Carver would eventually be honored worldwide for his contributions to agriculture and botany. Most widely known for his work with peanuts, he also developed new ways to farm efficiently. After reading the passage, students will answer comprehension questions.
Topic(s): History. Skill(s): Summary. Genre(s): Biography / Autobiography
Click for the passage & questions on one printable PDF.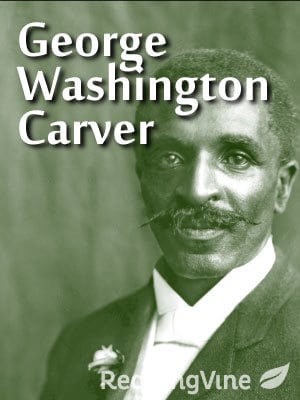 George Washington Carver was born in Missouri between 1861 and 1864. He was born into slavery. It was not until the end of the Civil War in 1865 that George became free. As he grew up, George loved to learn and read. Black children were not allowed to go to the same schools as white children. The schools for black children was far from where George lived. He left home as a little boy to go to the school. There he studied very hard.
After he finished high school, George wanted to go to college. At that time, not many black students were allowed into college. He worked for a time until he could borrow money to go to college. In 1890 he went to Simpson College in Iowa. There he studied art and music. His drawings of plants were so good that his teacher suggested he study botany, which is the science of plants. George went to agricultural college in Iowa in 1891, where he not only graduated but also taught other students.
George continued to study plants. He became very famous for his work. In 1896, he was invited to teach at the Tuskegee Institute in Alabama. He would teach there for 47 years. He also became a important research scientist. He discovered new ways to use plants. He found about 100 new ways to use peanuts. These include dyes, plastics, paint, and make-up. He also taught farmers how to grow crops to help the soil, and new ways to farm.
In 1943 George Washington Carver died. He has been honored all over the world for his achievements. There is a national monument to him in Missouri where he grew up. The George Washington Carver Museum at the Tuskegee Institute honors his work. He has had a ship and a submarine named after him. He was named to the Hall of Fame for Great Americans. In 1990 he was admitted to the National Inventors Hall of Fame. The boy who wanted to learn became a great inventor and scientist.
Get the passage & questions on one printable PDF.
Scroll To Top