Anne's History
Reading Comprehension Activity
Author: Lucy Maud Montgomery
Chapter V passage: Charming and imaginative, Anne Shirley from "Anne of Green Gables" has had a difficult life. Just 11 years old, she was orphaned as a baby, and has been sent from one awful home to another before finally arriving at an orphanage. In this passage, Anne tells her story to Marilla Cuthbert, who may well be Anne's last chance at a good home. Students will read the passage and answer questions on the theme, the language, and the details.
Topic(s): Realistic Fiction. Skill(s): Theme, Summary, Context Clues. Genre(s): Prose
Click for the passage & questions on one printable PDF.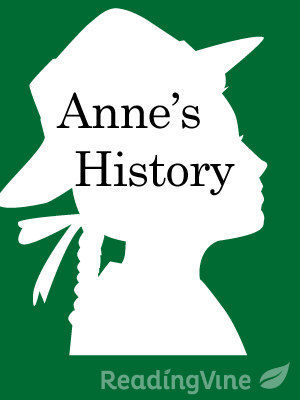 In Anne of Green Gables, Marilla Cuthbert and Matthew Cuthbert have sent to a nearby orphanage for a boy to come live with them and help work the farm. In a mixup, Anne Shirley was set instead of a boy. Anne loves the farm, but Marilla is firm she must go back to the orphanage. In this passage, Marilla and Anne are on the way to discuss the mixup with the woman that made the arrangements. Marilla asks about Anne's history.
————————————
"No, I don't want any of your imaginings. Just you stick to bald facts. Begin at the beginning. Where were you born and how old are you?"
"I was eleven last March," said Anne, resigning herself to bald facts with a little sigh. "And I was born in Bolingbroke, Nova Scotia. My father's name was Walter Shirley, and he was a teacher in the Bolingbroke High School. My mother's name was Bertha Shirley. Aren't Walter and Bertha lovely names? I'm so glad my parents had nice names. It would be a real disgrace to have a father named-well, say Jedediah, wouldn't it?"
"I guess it doesn't matter what a person's name is as long as he behaves himself," said Marilla, feeling herself called upon to inculcate a good and useful moral.
"Well, I don't know." Anne looked thoughtful. "I read in a book once that a rose by any other name would smell as sweet, but I've never been able to believe it. I don't believe a rose would be as nice if it was called a thistle or a skunk cabbage. I suppose my father could have been a good man even if he had been called Jedediah; but I'm sure it would have been a cross. Well, my mother was a teacher in the High school, too, but when she married father she gave up teaching, of course. A husband was enough responsibility. Mrs. Thomas said that they were a pair of babies and as poor as church mice. They went to live in a weeny-teeny little yellow house in Bolingbroke. I've never seen that house, but I've imagined it thousands of times. I think it must have had honeysuckle over the parlor window and lilacs in the front yard and lilies of the valley just inside the gate. Yes, and muslin curtains in all the windows. Muslin curtains give a house such an air. I was born in that house. Mrs. Thomas said I was the homeliest baby she ever saw, I was so scrawny and tiny and nothing but eyes, but that mother thought I was perfectly beautiful. I should think a mother would be a better judge than a poor woman who came in to scrub, wouldn't you? I'm glad she was satisfied with me anyhow, I would feel so sad if I thought I was a disappointment to her-because she didn't live very long after that, you see. She died of fever when I was just three months old. I do wish she'd lived long enough for me to remember calling her mother. I think it would be so sweet to say 'mother,' don't you? And father died four days afterwards from fever too. That left me an orphan and folks were at their wits' end, so Mrs. Thomas said, what to do with me. You see, nobody wanted me even then. It seems to be my fate. Father and mother had both come from places far away and it was well known they hadn't any relatives living. Finally Mrs. Thomas said she'd take me, though she was poor and had a drunken husband. She brought me up by hand. Do you know if there is anything in being brought up by hand that ought to make people who are brought up that way better than other people? Because whenever I was naughty Mrs. Thomas would ask me how I could be such a bad girl when she had brought me up by hand-reproachful-like.
"Mr. and Mrs. Thomas moved away from Bolingbroke to Marysville, and I lived with them until I was eight years old. I helped look after the Thomas children-there were four of them younger than me-and I can tell you they took a lot of looking after. Then Mr. Thomas was killed falling under a train and his mother offered to take Mrs. Thomas and the children, but she didn't want me. Mrs. Thomas was at her wits' end, so she said, what to do with me. Then Mrs. Hammond from up the river came down and said she'd take me, seeing I was handy with children, and I went up the river to live with her in a little clearing among the stumps. It was a very lonesome place. I'm sure I could never have lived there if I hadn't had an imagination. Mr. Hammond worked a little sawmill up there, and Mrs. Hammond had eight children. She had twins three times. I like babies in moderation, but twins three times in succession is too much. I told Mrs. Hammond so firmly, when the last pair came. I used to get so dreadfully tired carrying them about.
"I lived up river with Mrs. Hammond over two years, and then Mr. Hammond died and Mrs. Hammond broke up housekeeping. She divided her children among her relatives and went to the States. I had to go to the asylum at Hopeton, because nobody would take me. They didn't want me at the asylum, either; they said they were over-crowded as it was. But they had to take me and I was there four months until Mrs. Spencer came."
Anne finished up with another sigh, of relief this time. Evidently she did not like talking about her experiences in a world that had not wanted her.
Get the passage & questions on one printable PDF.