Being Neighborly
Reading Comprehension Activity
Author: Louisa May Alcott
Chapter Five passage: Jo March is the central character of Louisa May Alcott's "Little Women." In this passage, Jo goes next door to cheer up Laurie, the young man of the house, who is recovering from an illness. She has an unexpected encounter with Laurie's grandfather. Students will read the excerpt and answer questions on the language and the characters.
Topic(s): Realistic Fiction. Skill(s): Character Traits, Context Clues. Genre(s): Prose
Click for the passage & questions on one printable PDF.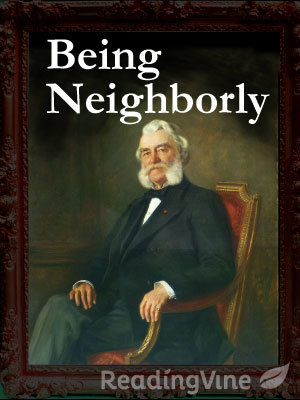 Little Women is the story of the four March sisters growing up during the American Civil War. The girls have made a friend of the boy next door named Laurie Laurence. Laurie lives with his wealthy grandfather, Mr. Laurence. In this passage, Jo, one of the sisters, visits Laurie who has been sick. "Marmee" is what Jo and her sisters call their mother.
————————————–
The atmosphere of the whole house being summerlike, Laurie led the way from room to room, letting Jo stop to examine whatever struck her fancy. And so, at last they came to the library, where she clapped her hands and pranced, as she always did when especially delighted. It was lined with books, and there were pictures and statues, and distracting little cabinets full of coins and curiosities, and Sleepy Hollow chairs, and queer tables, and bronzes, and best of all, a great open fireplace with quaint tiles all round it.
"What richness!" sighed Jo, sinking into the depth of a velour chair and gazing about her with an air of intense satisfaction. "Theodore Laurence, you ought to be the happiest boy in the world," she added impressively.
"A fellow can't live on books," said Laurie, shaking his head as he perched on a table opposite.
Before he could more, a bell rang, and Jo flew up, exclaiming with alarm, "Mercy me! It's your grandpa!"
"Well, what if it is? You are not afraid of anything, you know," returned the boy, looking wicked.
"I think I am a little bit afraid of him, but I don't know why I should be. Marmee said I might come, and I don't think you're any the worse for it," said Jo, composing herself, though she kept her eyes on the door.
"I'm a great deal better for it, and ever so much obliged. I'm only afraid you are very tired of talking to me. It was so pleasant, I couldn't bear to stop," said Laurie gratefully.
"The doctor to see you, sir," and the maid beckoned as she spoke.
"Would you mind if I left you for a minute? I suppose I must see him," said Laurie.
"Don't mind me. I'm happy as a cricket here," answered Jo.
Laurie went away, and his guest amused herself in her own way. She was standing before a fine portrait of the old gentleman when the door opened again, and without turning, she said decidedly, "I'm sure now that I shouldn't be afraid of him, for he's got kind eyes, though his mouth is grim, and he looks as if he had a tremendous will of his own. He isn't as handsome as my grandfather, but I like him."
"Thank you, ma'am," said a gruff voice behind her, and there, to her great dismay, stood old Mr. Laurence.
Poor Jo blushed till she couldn't blush any redder, and her heart began to beat uncomfortably fast as she thought what she had said. For a minute a wild desire to run away possessed her, but that was cowardly, and the girls would laugh at her, so she resolved to stay and get out of the scrape as she could. A second look showed her that the living eyes, under the bushy eyebrows, were kinder even than the painted ones, and there was a sly twinkle in them, which lessened her fear a good deal. The gruff voice was gruffer than ever, as the old gentleman said abruptly, after the dreadful pause, "So you're not afraid of me, hey?"
"Not much, sir."
"And you don't think me as handsome as your grandfather?"
"Not quite, sir."
"And I've got a tremendous will, have I?"
"I only said I thought so."
"But you like me in spite of it?"
"Yes, I do, sir."
That answer pleased the old gentleman. He gave a short laugh, shook hands with her, and, putting his finger under her chin, turned up her face, examined it gravely, and let it go, saying with a nod, "You've got your grandfather's spirit, if you haven't his face. He was a fine man, my dear, but what is better, he was a brave and an honest one, and I was proud to be his friend."
"Thank you, sir," And Jo was quite comfortable after that, for it suited her exactly.
"What have you been doing to this boy of mine, hey?" was the next question, sharply put.
"Only trying to be neighborly, sir." And Jo told how her visit came about.
"You think he needs cheering up a bit, do you?"
"Yes, sir, he seems a little lonely, and young folks would do him good perhaps. We are only girls, but we should be glad to help if we could, for we don't forget the splendid Christmas present you sent us," said Jo eagerly.
Get the passage & questions on one printable PDF.