Calls
Reading Comprehension Activity
Author: Louisa May Alcott
Chapter XXIX passage: Little sisters sometimes can be quite bossy to their older sisters. Amy March from "Little Women" proves this when she tries to tell Jo, her older sister, how to behave when the two go calling on friends. Jo makes sure Amy gets what she asks for, although the result is not what Amy intended. Students will read the passage and respond to questions on the theme and the language.
Topic(s): Realistic Fiction. Skill(s): Theme, Context Clues, Figurative Language. Genre(s): Prose
Click for the passage & questions on one printable PDF.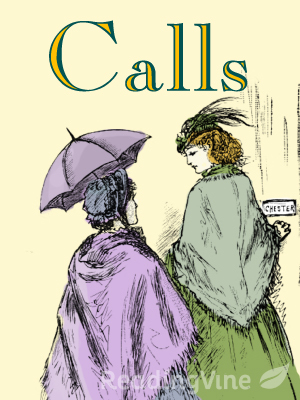 The March sisters in Little Women are growing up during the middle of the 1800s. At that time, there were no phones, email, or Internet. In order to keep up with friends, women made "calls," or visits to each other's houses. In this passage, younger sister Amy has convinced her older sister Jo to go calling on friends with her. Jo doesn't really want to, but she finally agrees. However, Amy also starts telling her older sister how to behave on these calls.
——————————–
"Now, Jo dear, the Chesters consider themselves very elegant people, so I want you to put on your best deportment. Don't make any of your abrupt remarks, or do anything odd, will you? Just be calm, cool, and quiet,-that's safe and ladylike; and you can easily do it for fifteen minutes," said Amy, as they approached the first place, having borrowed the white parasol and been inspected by Meg, with a baby on each arm.
"Let me see. 'Calm, cool, and quiet,'-yes, I think I can promise that. I've played the part of a prim young lady on the stage, and I'll try it off. My powers are great, as you shall see; so be easy in your mind, my child."
Amy looked relieved, but naughty Jo took her at her word; for, during the first call, she sat with every limb gracefully composed, every fold correctly draped, calm as a summer sea, cool as a snowbank, and as silent as a sphinx. In vain Mrs. Chester alluded to her "charming novel," and the Misses Chester introduced parties, picnics, the opera, and the fashions; each and all were answered by a smile, a bow, and a demure "Yes" or "No," with the chill on. In vain Amy telegraphed the word "Talk," tried to draw her out, and administered covert pokes with her foot. Jo sat as if blandly unconscious of it all, with deportment like Maud's face, "icily regular, splendidly null."
"What a haughty, uninteresting creature that oldest Miss March is!" was the unfortunately audible remark of one of the ladies, as the door closed upon their guests. Jo laughed noiselessly all through the hall, but Amy looked disgusted at the failure of her instructions, and very naturally laid the blame upon Jo.
Get the passage & questions on one printable PDF.