Duffy's First Walk
Reading Comprehension Activity
Caitlyn is very excited to take her puppy on his first walk. She can't wait to show him the neighborhood as they walk around the block together. Students will read the passage and answer follow-up questions about character and other story elements. This passage includes words from the pre-primer and primer Dolch sight words lists.
Topic(s): Realistic Fiction. Skill(s): Character Traits, Fact & Opinion. Genre(s): Prose
Click for the passage & questions on one printable PDF.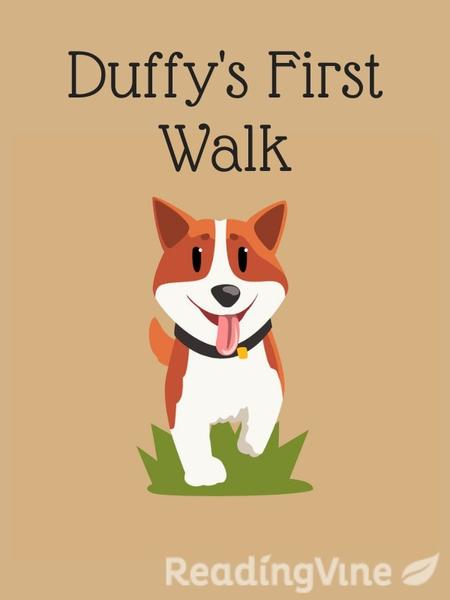 Caitlyn was very excited. Her puppy was ready for his first walk outside. The puppy's name was Duffy. He had never been outside before. Now he was six weeks old and could learn how to walk on a leash.
"Here, Duffy!" Caitlyn called. Duffy ran to Caitlyn and licked her knees. Caitlyn bent down and clipped the leash to Duffy's collar. "Let's go for a walk!" Duffy wagged his tail.
Caitlyn opened the front door. She and Duffy both walked outside. Duffy stopped to sniff the grass. "No, Duffy, let's go!" Duffy wagged his tail and followed Caitlyn to the street.
Caitlyn turned left. "This way!" she called. She tugged at the leash. Duffy followed. He sniffed the ground while he walked.
Caitlyn and Duffy passed many houses. They all had green grass, and a few had white fences. Caitlyn waved to her friends. "I'm walking my puppy!" she said.
When they turned the corner. Caitlyn slowed down. "This is my favorite house, Duffy," she said. This house did not have green grass. Instead, the yard was filled with pretty flowers. There were tall, yellow sunflowers and red geraniums. There were so many flowers that Caitlyn couldn't remember all their names. Duffy sniffed at the flowers and sneezed.
The girl and the dog kept walking. "Halfway there, Duffy!" Caitlyn said. They were just about to turn the next corner, when suddenly a white cat ran out from under a fence and into the street. Duffy tried to run after it, but Caitlyn held the leash tight. "No, Duffy! Stay!"
Duffy had not learned to stay yet. He pulled harder at the leash. "Duffy, sit!" said Caitlyn.
Duffy sat down on the sidewalk. It was the only trick he knew how to do.
Caitlyn sighed. "You scared me," she said. "Let's go home." She began to walk, and Duffy followed her. He was getting tired, so he walked slowly now.
Soon Caitlyn and Duffy were back where they started. She opened the front door and went back inside. "Good job, Duffy," she said. "We'll practice again tomorrow."
Get the passage & questions on one printable PDF.