Ethan's Bike Ride
Reading Comprehension Activity
Author: RV Staff Writer E.T.
Ethan has learned to ride his bike, and now he wants to take it out on his own. How will we fare on his first solo ride to school? Students will read the passage and answer follow-up questions about character and other story elements. This reading activity also includes words from the pre-primer and primer Dolch sight words lists.
Topic(s): Realistic Fiction. Skill(s): Fact & Opinion, Context Clues. Genre(s): Prose
Click for the passage & questions on one printable PDF.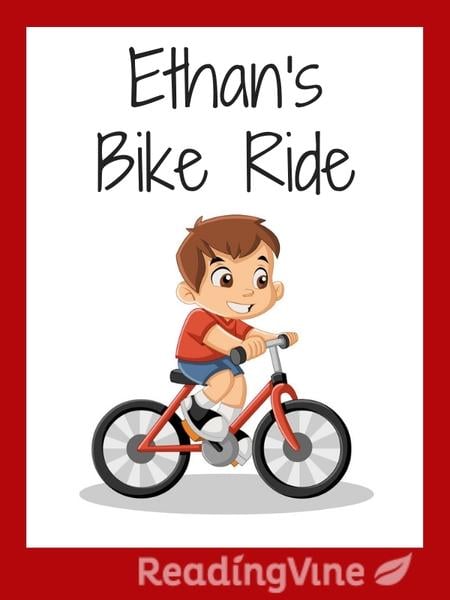 Ethan sat on his bike. He held tight to the handlebars and pedaled fast. When he got to the end of the driveway, he turned around. He squeezed the brakes and stopped in front of Mom.
"See? I never fall any more. Can I ride to the park on my own now?" He had biked to the park before, but Mom or Dad always came along. He was sure he could do it on his own.
Mom looked at Ethan. "Is your helmet on tight?" she asked.
Ethan checked the buckle. "Yes!" he said.
"Okay," mom said. "But you must come home before it gets dark. It's not safe to ride at night in the dark." Mom smiled. "Have fun!" she said.
"Really? Wow, thanks!" Ethan turned the blue bike around and rode to the edge of the driveway before Mom could change her mind.
Ethan looked both was before he rode into the street. The park was only two blocks away. Ethan was careful to stay in the bike lane.
At the end of the street, Ethan had to turn right to get to the park. He lifted his arm up to make the signal so cars would know where he was going.
When he got to the park, he slowed down. He parked his bike at the bike rack near the picnic table. He put his helmet in the bike basket and ran off to find his friends.
Connie was playing hopscotch near the swings. "Guess what?" Ethan said. "I rode my bike here all by myself!"
"Me too!" Connie said. "Now we can ride around the neighborhood together!"
"Mom only said I could come to the park," Ethan said. "Maybe next time she'll let me do that."
Connie and Ethan played hopscotch and took turns on the slide. They also ran races. When they were tired, they sat at the picnic table and watch a little bird as it ate seeds from the ground.
Ethan looked at the sky. The sun was an orange ball, and it was slowly setting. "I should head home," said Ethan. "I promised I would get there before dark."

"Me too," Connie said. They both put on their helmets and got on their bikes.

"See you next time!" said Ethan. And he pedaled his bike home before dark, just like he said he would.
Get the passage & questions on one printable PDF.