Get the passage & questions on one printable PDF.
Author: Robert Louis Stevenson
While more famous for his adventure novels such as "Treasure Island," Robert Louis Stevenson also wrote poetry and nonfiction. This passage is from his 1892 travelogue "Across the Plains." It describes his trip by train across the United States. Students will read the passage and answer questions on the author's language and the details of the passage.
Topic(s): Essay / Editorial, History. Skill(s): Summary, Context Clues. Genre(s): Biography / Autobiography, Journal / Diary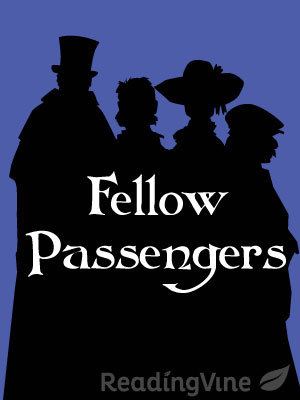 In 1879 famed Scottish author Robert Louis Stevenson traveled by ship across the Atlantic to New York, then by train to San Francisco. He wrote of his travels in his book Across the Plains. In this passage he reflects on the other passengers on the train.
———————————————–
I had by this time some opportunity of seeing the people whom I was among. They were in rather marked contrast to the emigrants I had met on board ship while crossing the Atlantic. They were mostly lumpish fellows, silent and noisy, a common combination; somewhat sad, I should say, with an extraordinary poor taste in humour, and little interest in their fellow-creatures beyond that of a cheap and merely external curiosity. If they heard a man's name and business, they seemed to think they had the heart of that mystery; but they were as eager to know that much as they were indifferent to the rest. Some of them were on nettles till they learned your name was Dickson and you a journeyman baker; but beyond that, whether you were Catholic or Mormon, dull or clever, fierce or friendly, was all one to them. Others who were not so stupid, gossiped a little, and, I am bound to say, unkindly. A favourite witticism was for some lout to raise the alarm of "All aboard!" while the rest of us were dining, thus contributing his mite to the general discomfort. Such a one was always much applauded for his high spirits. When I was ill coming through Wyoming, I was astonished-fresh from the eager humanity on board ship-to meet with little but laughter. One of the young men even amused himself by incommoding me, as was then very easy; and that not from ill-nature, but mere clodlike incapacity to think, for he expected me to join the laugh. I did so, but it was phantom merriment. Later on, a man from Kansas had three violent epileptic fits, and though, of course, there were not wanting some to help him, it was rather superstitious terror than sympathy that his case evoked among his fellow-passengers. "Oh, I hope he's not going to die!" cried a woman; "it would be terrible to have a dead body!" And there was a very general movement to leave the man behind at the next station. This, by good fortune, the conductor negatived.
There was a good deal of story-telling in some quarters; in others, little but silence. In this society, more than any other that ever I was in, it was the narrator alone who seemed to enjoy the narrative. It was rarely that any one listened for the listening. If he lent an ear to another man's story, it was because he was in immediate want of a hearer for one of his own. Food and the progress of the train were the subjects most generally treated; many joined to discuss these who otherwise would hold their tongues. One small knot had no better occupation than to worm out of me my name; and the more they tried, the more obstinately fixed I grew to baffle them. They assailed me with artful questions and insidious offers of correspondence in the future; but I was perpetually on my guard, and parried their assaults with inward laughter.
Reading Comprehension Questions
Get the passage & questions on one printable PDF.