Football Days: A Yale Nightmare
Reading Comprehension Activity
Author: William H. Edwards
Chapter XVIII passage: College football in the United States began as early as 1869. By the turn of the 20th century, it had become a major sport followed by many. This passage from William "Big Bill" Edwards' 1916 book discusses how a college football captain invigorates his team after a devastating defeat. Students will read the passage and answer questions on the language, the main idea, and the details.
Click for the passage & questions on one printable PDF.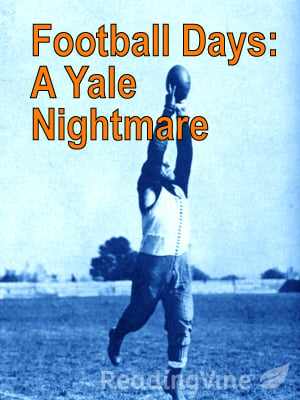 William "Big Bill" Edwards (1877-1943) played football for Princeton University for four seasons: 1896-1899. He was captain of the team in 1899, and was second team All-America pick in 1898 and first team in 1899. After his graduation from college, he became a football referee. He wrote his book Football Days in 1916.
Jim Hogan (1872-1910), mentioned below, was a tackle for Yale from 1901 through 1904. Hogan died in 1910. Both he and Big Bill were inducted into the College Football Hall of Fame; Hogan in 1954 and Edwards in 1971.
Army is the team for the U.S. Military Academy also known as West Point. "Cadets" is the former team name for the Army team. "Blue" refers to the school color for Yale.
——————–
Those who saw the Army defeat Yale at West Point in 1904 must realize what a blow it was to the Blue. The first score came as a result of a blocked kick by West Point, which was recovered by Erwin, who picked up the ball and dashed across the line for a touchdown. The Army scored the second time when Torney cut loose and ran 105 yards for a touchdown.
Sam Morse, captain of the Yale 1906 team, who played right halfback in this game, tells how the nightmare of defeat may come upon us at any time, even in the early season, and incidentally how it may have its compensations.
"An instance of the psychology of football is to be found in the fall of 1904, when Jim Hogan was captain of the Yale team," says Morse. "I had the pleasure of playing back of him on the defensive in almost every game of that year, and I got to depend so much on those bull-like charges of his that I fear that if I had been obliged to play back of someone else my playing would have been of inferior quality.
"Yale had a fine team that year, defeating both Harvard and Princeton with something to spare. The only eleven that scored on us was West Point, and they beat us. It is a strange thing that the Cadets always seem to give Yale a close game, as in that year even though beaten by both Harvard and Princeton by safe scores, and even though Yale beat Harvard and Princeton handily, the Army played us to a standstill.
"After the game, as is so often the case when men have played themselves out, there was a good deal of sobbing and a good many real tears were shed. Every man who has played football will appreciate that there are times when it is a very common matter for even a big husky man to weep. We were all in the West Point dressing-room when Jim Hogan arose. He felt what we all took to be a disgrace more keenly than any of us. There was no shake in his voice, however, or any tears in his eyes when he bellowed at us to stop blubbering.
"'Don't feel sorry for yourselves. I hope this thing will hurt us all enough so that we will profit by it. It isn't a matter to cry over-it's a matter to analyze closely and to take into yourself and to digest, and finally to prevent its happening again.'
"He drove it home as only Jim Hogan could. At the close Ralph Bloomer jumped to his feet and cried:
"'Jim, old man, we are with you, and you are right about it, and we will wipe this thing out in a way which will satisfy you and all the rest of the college.'
"The whole team followed him. Right then and there that aggregation became a Yale football team in the proper sense, and one of the greatest Yale football teams that ever played. It was the game followed by Jim's speech that made the eleven men a unit for victory.
"If Jim had been allowed to live a few more years the quality of leadership that he possessed would have made of him a very prominent and powerful man. His memory is one of the dearest things to all of us who were team mates or friends of his, but I hardly ever think of him without picturing him that particular day in the dressing-room at West Point, when in five minutes he made of eleven men a really great football team."
Get the passage & questions on one printable PDF.