Helen and the World's Fair
Reading Comprehension Activity
Author: Helen Keller
Chapter XV passage: Born in the 19th century as a healthy baby, Helen Keller lost her sight and hearing as a toddler. Her family sought help for her, and Miss Annie Sullivan became her life-long teacher. Helen learned to sign, speak, and read. She also became a worldwide sensation and a prominent writer and activist. In this passage from her autobiography, 13-year-old Helen and Miss Sullivan visit the 1893 Chicago World's Fair with Alexander Graham Bell. Student's will read the passage and respond to questions on the details of Helen's visit and the vocabulary.
Topic(s): History. Skill(s): Summary, Context Clues. Genre(s): Biography / Autobiography
Click for the passage & questions on one printable PDF.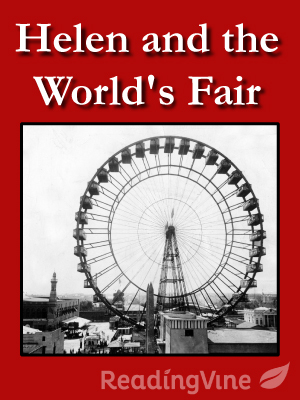 Born in Alabama in 1880, Helen Keller was a normal, bright baby. When she was just a toddler, she became seriously ill. She recovered, but lost her hearing and sight. She had barely learned to speak , so she was unable to learn any more words. Her family finally found a teacher for her named Annie Sullivan. She taught Helen sign language and opened the door to communication and the world. At that time, few blind and deaf people learned to communicate, so Helen became a celebrity. In this passage, Helen is 13 years old. She and Miss Sullivan travel to the 1893 Chicago World's Fair with Alexander Graham Bell, the inventor of the telephone.
————————-
During the summer of 1893, Miss Sullivan and I visited the World's Fair with Dr. Alexander Graham Bell. I recall with unmixed delight those days when a thousand childish fancies became beautiful realities. Every day in imagination I made a trip round the world, and I saw many wonders from the uttermost parts of the earth-marvels of invention, treasuries of industry and skill and all the activities of human life actually passed under my finger tips.
I liked to visit the Midway Plaisance. It seemed like the "Arabian Nights," it was crammed so full of novelty and interest. Here was the India of my books in the curious bazaar with its Shivas and elephant-gods; there was the land of the Pyramids concentrated in a model Cairo with its mosques and its long processions of camels; yonder were the lagoons of Venice, where we sailed every evening when the city and the fountains were illuminated. I also went on board a Viking ship which lay a short distance from the little craft. I had been on a man-of-war before, in Boston, and it interested me to see, on this Viking ship, how the seaman was once all in all-how he sailed and took storm and calm alike with undaunted heart, and gave chase to whosoever reechoed his cry, "We are of the sea!" and fought with brains and sinews, self-reliant, self-sufficient, instead of being thrust into the background by unintelligent machinery, as Jack is to-day. So it always is-"man only is interesting to man."
At a little distance from this ship there was a model of the Santa Maria, which I also examined. The captain showed me Columbus's cabin and the desk with an hour-glass on it. This small instrument impressed me most because it made me think how weary the heroic navigator must have felt as he saw the sand dropping grain by grain while desperate men were plotting against his life.
Mr. Higinbotham, President of the World's Fair, kindly gave me permission to touch the exhibits, and with an eagerness as insatiable as that with which Pizarro seized the treasures of Peru, I took in the glories of the Fair with my fingers. It was a sort of tangible kaleidoscope, this white city of the West. Everything fascinated me, especially the French bronzes. They were so lifelike, I thought they were angel visions which the artist had caught and bound in earthly forms.
At the Cape of Good Hope exhibit, I learned much about the processes of mining diamonds. Whenever it was possible, I touched the machinery while it was in motion, so as to get a clearer idea how the stones were weighed, cut, and polished. I searched in the washings for a diamond and found it myself-the only true diamond, they said, that was ever found in the United States.
Dr. Bell went everywhere with us and in his own delightful way described to me the objects of greatest interest. In the electrical building we examined the telephones, autophones, phonographs, and other inventions, and he made me understand how it is possible to send a message on wires that mock space and outrun time, and, like Prometheus, to draw fire from the sky. We also visited the anthropological department, and I was much interested in the relics of ancient Mexico, in the rude stone implements that are so often the only record of an age-the simple monuments of nature's unlettered children (so I thought as I fingered them) that seem bound to last while the memorials of kings and sages crumble in dust away-and in the Egyptian mummies, which I shrank from touching. From these relics I learned more about the progress of man than I have heard or read since.
All these experiences added a great many new terms to my vocabulary, and in the three weeks I spent at the Fair I took a long leap from the little child's interest in fairy tales and toys to the appreciation of the real and the earnest in the workaday world.
Get the passage & questions on one printable PDF.