Helen Prepares for College
Reading Comprehension Activity
Author: Helen Keller
Chapter XVIII passage: After overcoming an early childhood illness, Helen Keller was left without sight or hearing. With the help of her extraordinary teacher, Anne Sullivan, Helen not only learned to communicate with her family, she excelled in her studies. This passage from Helen's 1903 autobiography tells of her journey toward college by entering a women's preparatory school. After reading the text, students will answer comprehension questions on the passage and use context clues for word meanings.
Topic(s): History. Skill(s): Summary, Context Clues, Main / Central Idea. Genre(s): Biography / Autobiography
Click for the passage & questions on one printable PDF.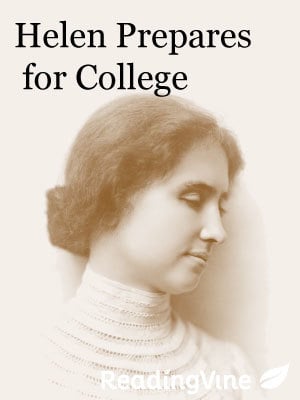 Helen Keller was born in Alabama in 1880. She suffered an illness when she was very young which left her without hearing or sight. Her family found Anne Sullivan, a teacher of blind students at the Perkins Institution for the Blind in Boston. Sullivan traveled to Alabama to teach Helen how to spell letters with a finger alphabet. Helen loved to learn and later went to the Perkins Institution to study. In this passage, Helen begins her high school studies. She mentions that she wants to attend Harvard; however, Harvard at that time did not accept women students. Radcliffe was the women's college associated with Harvard.
——————————-
In October, 1896, I entered the Cambridge School for Young Ladies, to be prepared for Radcliffe.
When I was a little girl, I visited Wellesley and surprised my friends by the announcement, "Some day I shall go to college-but I shall go to Harvard!" When asked why I would not go to Wellesley, I replied that there were only girls there. The thought of going to college took root in my heart and became an earnest desire, which impelled me to enter into competition for a degree with seeing and hearing girls, in the face of the strong opposition of many true and wise friends. When I left New York the idea had become a fixed purpose; and it was decided that I should go to Cambridge. This was the nearest approach I could get to Harvard and to the fulfillment of my childish declaration.
At the Cambridge School the plan was to have Miss Sullivan attend the classes with me and interpret to me the instruction given.
Of course my instructors had had no experience in teaching any but normal pupils, and my only means of conversing with them was reading their lips. My studies for the first year were English history, English literature, German, Latin, arithmetic, Latin composition and occasional themes. Until then I had never taken a course of study with the idea of preparing for college; but I had been well drilled in English by Miss Sullivan, and it soon became evident to my teachers that I needed no special instruction in this subject beyond a critical study of the books prescribed by the college. I had had, moreover, a good start in French, and received six months' instruction in Latin; but German was the subject with which I was most familiar.
In spite, however, of these advantages, there were serious drawbacks to my progress. Miss Sullivan could not spell out in my hand all that the books required, and it was very difficult to have textbooks embossed in time to be of use to me, although my friends in London and Philadelphia were willing to hasten the work. For a while, indeed, I had to copy my Latin in braille, so that I could recite with the other girls. My instructors soon became sufficiently familiar with my imperfect speech to answer my questions readily and correct mistakes. I could not make notes in class or write exercises; but I wrote all my compositions and translations at home on my typewriter.
Each day Miss Sullivan went to the classes with me and spelled into my hand with infinite patience all that the teachers said. In study hours she had to look up new words for me and read and reread notes and books I did not have in raised print. The tedium of that work is hard to conceive. Frau Grote, my German teacher, and Mr. Gilman, the principal, were the only teachers in the school who learned the finger alphabet to give me instruction. No one realized more fully than dear Frau Grote how slow and inadequate her spelling was. Nevertheless, in the goodness of her heart she laboriously spelled out her instructions to me in special lessons twice a week, to give Miss Sullivan a little rest. But, though everybody was kind and ready to help us, there was only one hand that could turn drudgery into pleasure.
Get the passage & questions on one printable PDF.