In Camp on the North Fork of the Merced
Reading Comprehension Activity
Author: John Muir
Chapter II passage: John Muir, founder of the Sierra Club, immigrated to Wisconsin from Scotland as a boy in 1849. He moved to California in 1868. In 1869 he was hired to oversee a flock of sheep and shepherds on their journey to summer pasture in the Sierra Nevada mountains. He recorded his thoughts and adventures in his diary. This passage reveals Muir thoughts on the large black ants, probably carpenter ants, that he encountered on the trip. After reading the passage, students will respond to questions on Muir's language, his attitudes, and the central idea.
Topic(s): History. Skill(s): Context Clues, Figurative Language, Main / Central Idea. Genre(s): Journal / Diary
Click for the passage & questions on one printable PDF.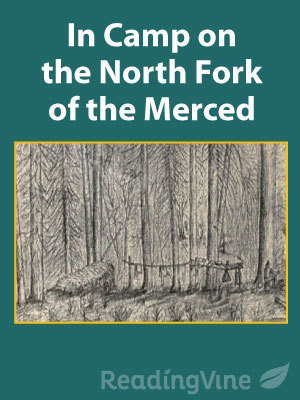 John Muir (1838 – 1914) was an American naturalist and conservationist. Shortly after he arrived in California in 1868, he was hired to oversee shepherds taking a flock of sheep to summer pasture in the Sierra Nevada mountains. He kept a diary of his trip, and he published it in 1911. Here Muir talks about some of the creatures he encountered.
—————————————————–
June 13, 1869
Mastodons and elephants used to live here no great geological time ago, as shown by their bones, often discovered by miners in washing gold-gravel. And bears of at least two species are here now, besides the California lion or panther, and wild cats, wolves, foxes, snakes, scorpions, wasps, tarantulas; but one is almost tempted at times to regard a small savage black ant as the master existence of this vast mountain world. These fearless, restless, wandering imps, though only about a quarter of an inch long, are fonder of fighting and biting than any beast I know. They attack every living thing around their homes, often without cause as far as I can see. Their bodies are mostly jaws curved like ice-hooks, and to get work for these weapons seems to be their chief aim and pleasure. Most of their colonies are established in living oaks somewhat decayed or hollowed, in which they can conveniently build their cells. These are chosen probably because of their strength as opposed to the attacks of animals and storms. They work both day and night, creep into dark caves, climb the highest trees, wander and hunt through cool ravines as well as on hot, unshaded ridges, and extend their highways and byways over everything but water and sky. From the foothills to a mile above the level of the sea nothing can stir without their knowledge; and alarms are spread in an incredibly short time, without any howl or cry that we can hear. I can't understand the need of their ferocious courage; there seems to be no common sense in it. Sometimes, no doubt, they fight in defense of their homes, but they fight anywhere and always wherever they can find anything to bite. As soon as a vulnerable spot is discovered on man or beast, they stand on their heads and sink their jaws, and though torn limb from limb, they will yet hold on and die biting deeper. When I contemplate this fierce creature so widely distributed and strongly entrenched, I see that much remains to be done ere the world is brought under the rule of universal peace and love.
On my way to camp a few minutes ago, I passed a dead pine nearly ten feet in diameter. It has been enveloped in fire from top to bottom so that now it looks like a grand black pillar set up as a monument. In this noble shaft a colony of large jet-black ants have established themselves, laboriously cutting tunnels and cells through the wood, whether sound or decayed. The entire trunk seems to have been honeycombed, judging by the size of the talus of gnawed chips like sawdust piled up around its base. They are more intelligent looking than their small, belligerent, strong-scented brethren, and have better manners, though quick to fight when required. Their towns are carved in fallen trunks as well as in those left standing, but never in sound, living trees or in the ground. When you happen to sit down to rest or take notes near a colony, some wandering hunter is sure to find you and come cautiously forward to discover the nature of the intruder and what ought to be done. If you are not too near the town and keep perfectly still he may run across your feet a few times, over your legs and hands and face, up your trousers, as if taking your measure and getting comprehensive views, then go in peace without raising an alarm. If, however, a tempting spot is offered or some suspicious movement excites him, a bite follows, and such a bite! I fancy that a bear or wolf bite is not to be compared with it. A quick electric flame of pain flashes along the outraged nerves, and you discover for the first time how great is the capacity for sensation you are possessed of. A shriek, a grab for the animal, and a bewildered stare follow this bite of bites as one comes back to consciousness from sudden eclipse. Fortunately, if careful, one need not be bitten oftener than once or twice in a lifetime. This wonderful electric species is about three fourths of an inch long. Bears are fond of them, and tear and gnaw their home-logs to pieces, and roughly devour the eggs, larvæ, parent ants, and the rotten or sound wood of the cells, all in one spicy acid hash. The Digger Indians also are fond of the larvæ and even of the perfect ants, so I have been told by old mountaineers. They bite off and reject the head, and eat the tickly acid body with keen relish. Thus are the poor biters bitten, like every other biter, big or little, in the world's great family.
Get the passage & questions on one printable PDF.