Jackie Robinson: The Man Who Changed Baseball Forever
Reading Comprehension Activity
Author: RV Staff Writer J.C.H.
Jackie Robinson broke the color line in major league baseball and was part of a cultural shift in America. Students will read this biography and respond to questions on the challenges faced by Robinson and the language in the passage.
Topic(s): History. Skill(s): Summary, Context Clues, Main / Central Idea. Genre(s): Biography / Autobiography
Click for the passage & questions on one printable PDF.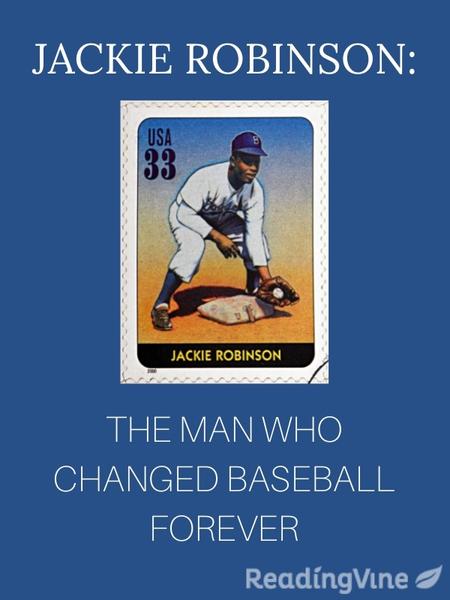 Jack "Jackie" Roosevelt Robinson was the first African American to play in major league baseball. Through his dedication, resilience, and patience, he paved the way for other African American baseball players to play in the "majors" and helped move America towards racial equality.
The United States during the 1920's was a very different place than it is today. At that time, much of the country was segregated according to skin color. African Americans and whites used separate bathrooms, went to separate schools, and ate at separate restaurants. African Americans even had to sit on the back of public busses so that white people could sit in the front. Sports teams were segregated as well. In professional baseball, there were the Negro leagues where only African Americans could play, and there were the major and minor leagues where only white people could play. This was the world that Jackie Robinson was raised.
He was born on January 31st, 1919 in Cairo, Georgia. He was the youngest of five children and was raised by a single mother. The family moved to Pasadena, California when Jackie was two years old. Jackie proved to be an extremely athletic child. In high school, Jackie earned varsity letters in four sports: football, track, basketball, and baseball.
Jackie went on to enroll first in Pasadena Junior College before graduating and moving on to University of California, Los Angeles. He was the first student there to earn varsity letters in four sports.
During his college career, he had several conflicts with authority figures he believed to be racist. He began to develop a reputation as an outspoken young man. Eventually, he dropped out of college due to financial difficulties and joined the U.S. Army. He served for two years and became an officer before receiving an honorable discharge.
In 1945, Jackie joined the Negro Baseball League. He played only one season with the Kansas City Monarchs before being approached by Brooklyn Dodgers president Branch Rickey.
The Dodgers were an all-white team at that time, but Rickey wanted to change that by having Robinson play for the Dodgers. However, he warned Jackie of the racism he would experience playing in the white leagues. Rickey urged Jackie not to fight back. At first, Jackie disagreed with this strategy, asking, "Are you looking for a Negro who is afraid to fight back?" Rickey responded by saying that he was looking for a player "with guts enough not to fight back." After three hours of talking, Jackie agreed to Rickey's terms and signed a contract with the Dodgers for $600 a month, roughly equivalent to $8,000 a month in today's economy.
In 1946, Jackie went to Daytona Beach, Florida for spring training with a minor league team called the Montreal Royals. His time there would be the first test to see whether or not he could "turn the other cheek" when faced with open discrimination. While in Florida, he wasn't allowed to stay in the team hotel because he was black. Instead, Jackie stayed at the home of a local African American politician. Some days, local officials wouldn't allow the team to train at their training grounds because Jackie was present. The police chief even threatened to cancel games if Jackie was going to play.
Eventually, Rickey stepped in and spoke with city officials. After much persuasion by Rickey, Robinson was allowed to play in a game in Daytona Beach.
Jackie got off to a slow start in the minors, but after switching positions from shortstop to second base, his performance began to improve. Over the course of the season, Jackie showed off his batting and fielding skills and was named his league's Most Valuable Player.
Only six days before the start of the 1947 major league season, Jackie was called up to play for the Dodgers in the major league. Jackie played first base and helped lead the Dodgers to victory during their first game. Over half the people in attendance were African Americans who had come to see Jackie break the "color line" in major league baseball.
Although Jackie had proved himself a talented player, he still experienced racism on his own team. Some of his teammates refused to play if Jackie was there. There was even a rumor across the entire league that large groups of players would strike and refuse to play baseball if Jackie continued playing in their league. The National League President Ford Frick, Baseball Commissioner Happy Chandler, and Dodgers Team Manager Leo Durocher all stepped forward to support Jackie. Frick and Chandler even said that any player who refused to play would be suspended even if it "wrecks the National League for five years."
Over the next ten years, Robinson was named Rookie of the Year, Most Valuable Player, and he helped lead his team to a World Series win against the Yankees in 1955. Jackie retired in 1956 at the age of 37. He was inducted into the National Baseball Hall of Fame in 1962.
After Jackie and the Dodgers broke the color line in major league baseball, other major league teams began to follow suit and recruited African American players onto their teams. Jackie's ability to perform well in the face of extreme racism earned him the respect of his teammates, his fans, and eventually, America. Today, he is known not only for his incredible athleticism, but also for his activism as a civil rights leader. During his time on the Dodgers, he spent some of his off-field time condemning segregation. As a result, many hotels frequently used by baseball teams desegregated.
Robinson received numerous awards and distinctions outside of the sports world, including the Presidential Medal of Freedom and the Congressional Gold Medal. He is recognized as a civil rights leader and celebrated for his patient, nonviolent, and determined approach to changing American culture. Jackie's life is a testament to the power one person has to make the world a better place.
Get the passage & questions on one printable PDF.
Scroll To Top