Literary Lessons
Reading Comprehension Activity
Author: Louisa May Alcott
Chapter XXVII passage: As the sisters in "Little Women" grow up, changes are afoot. Meg is married, and now Jo is concentrating on being a writer. In this passage, she wins an award with a hefty prize. Students will read the passage and respond to questions on vocabulary, theme, and character traits.
Topic(s): Realistic Fiction. Skill(s): Theme, Character Traits, Context Clues. Genre(s): Prose
Click for the passage & questions on one printable PDF.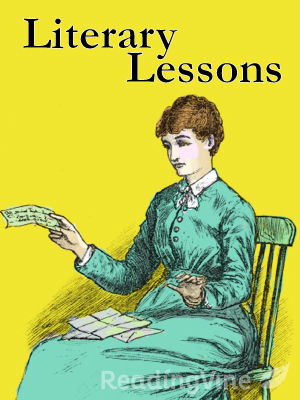 In "Little Women," readers follow the four March sisters as they grow up through the Civil War. Meg, Jo, Beth, and Amy are quite different from each other, but love each other dearly. As this passage starts, Meg is now married, Beth has recovered from a serious illness, Amy is growing into a young lady, and Jo has big news. Jo has always wanted to be a writer, and she has entered a writing contest with a $100 prize. That prize is equal to about $1,700 in today's money.
—————————-
Six weeks is a long time to wait, and a still longer time for a girl to keep a secret; but Jo did both, and was just beginning to give up all hope of ever seeing her manuscript again, when a letter arrived which almost took her breath away; for on opening it, a check for a hundred dollars fell into her lap. For a minute she stared at it as if it had been a snake, then she read her letter and began to cry. If the amiable gentleman who wrote that kindly note could have known what intense happiness he was giving a fellow-creature, I think he would devote his leisure hours, if he has any, to that amusement; for Jo valued the letter more than the money, because it was encouraging; and after years of effort it was so pleasant to find that she had learned to do something, though it was only to write a sensation story.
A prouder young woman was seldom seen than she, when, having composed herself, she electrified the family by appearing before them with the letter in one hand, the check in the other, announcing that she had won the prize. Of course there was a great jubilee, and when the story came every one read and praised it; though after her father had told her that the language was good, the romance fresh and hearty, and the tragedy quite thrilling, he shook his head, and said in his unworldly way,-
"You can do better than this, Jo. Aim at the highest, and never mind the money."
"I think the money is the best part of it. What will you do with such a fortune?" asked Amy, regarding the magic slip of paper with a reverential eye.
"Send Beth and mother to the seaside for a month or two," answered Jo promptly.
"Oh, how splendid! No, I can't do it, dear, it would be so selfish," cried Beth, who had clapped her thin hands, and taken a long breath, as if pining for fresh ocean-breezes; then stopped herself, and motioned away the check which her sister waved before her.
"Ah, but you shall go, I've set my heart on it; that's what I tried for, and that's why I succeeded. I never get on when I think of myself alone, so it will help me to work for you, don't you see? Besides, Marmee needs the change, and she won't leave you, so you must go. Won't it be fun to see you come home plump and rosy again? Hurrah for Dr. Jo, who always cures her patients!"
To the seaside they went, after much discussion; and though Beth didn't come home as plump and rosy as could be desired, she was much better, while Mrs. March declared she felt ten years younger; so Jo was satisfied with the investment of her prize money, and fell to work with a cheery spirit, bent on earning more of those delightful checks. She did earn several that year, and began to feel herself a power in the house; for by the magic of a pen, her "rubbish" turned into comforts for them all. "The Duke's Daughter" paid the butcher's bill, "A Phantom Hand" put down a new carpet, and the "Curse of the Coventrys" proved the blessing of the Marches in the way of groceries and gowns.
Get the passage & questions on one printable PDF.