Meg Goes To Vanity Fair
Reading Comprehension Activity
Author: Louisa May Alcott
Chapter Nine passage: "Little Women" is Louisa May Alcott's story of four sisters growing up during the American Civil War. This passage explores Meg's misadventure in the world of the wealthy. After reading the passage, students will answer questions on the theme, the plot, and the figurative language.
Topic(s): Realistic Fiction. Skill(s): Theme, Summary, Figurative Language. Genre(s): Prose
Click for the passage & questions on one printable PDF.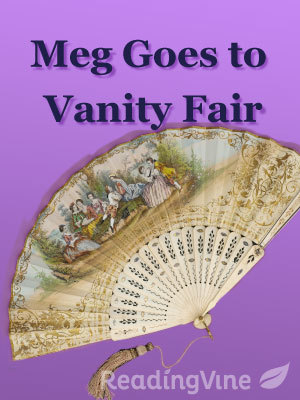 Louisa May Alcott wrote Little Women in the late 1860s. It's the story of the four March sisters growing up during the American Civil War. Their names are Meg, Jo, Beth, and Amy. Their once prosperous family has lost most of their money, and Mr. March is serving in the Union Army. The sisters are good friends with the boy next door, Laurie Laurence. Laurie lives with his wealthy grandfather.
In this passage, Meg, or Margaret, has been invited to by the rich Moffat family to visit for a few days along with some other young ladies. Meg is sometimes called Daisy by these friends. Meg doesn't have the fashionable clothes that her friends have, and she tries not to let it trouble her. But in truth, she very much wants elegant clothes. For the final ball, her friends have convinced her to dress in a borrowed gown. It is much more fashionable than anything Meg has. They also convince her to let them fix her hair, and they loan her expensive jewelry.
————————————–
"Come and show yourself," said Miss Belle, leading the way to the room where the others were waiting.
As Meg went rustling after, with her long skirts trailing, her earrings tinkling, her curls waving, and her heart beating, she felt as if her fun had really begun at last, for the mirror had plainly told her that she was 'a little beauty'. Her friends repeated the pleasing phrase enthusiastically, and for several minutes she stood, like a jackdaw in the fable, enjoying her borrowed plumes, while the rest chattered like a party of magpies.
"While I dress, do you drill her, Nan, in the management of her skirt and those French heels, or she will trip herself up. Take your silver butterfly, and catch up that long curl on the left side of her head, Clara, and don't any of you disturb the charming work of my hands," said Belle, as she hurried away, looking well pleased with her success.
"You don't look a bit like yourself, but you are very nice. I'm nowhere beside you, for Belle has heaps of taste, and you're quite French, I assure you. Let your flowers hang, don't be so careful of them, and be sure you don't trip," returned Sallie, trying not to care that Meg was prettier than herself.
Keeping that warning carefully in mind, Margaret got safely down stairs and sailed into the drawing rooms where the Moffats and a few early guests were assembled. She very soon discovered that there is a charm about fine clothes which attracts a certain class of people and secures their respect. Several young ladies, who had taken no notice of her before, were very affectionate all of a sudden. Several young gentlemen, who had only stared at her at the other party, now not only stared, but asked to be introduced, and said all manner of foolish but agreeable things to her, and several old ladies, who sat on the sofas, and criticized the rest of the party, inquired who she was with an air of interest. She heard Mrs. Moffat reply to one of them…
"Daisy March-father a colonel in the army-one of our first families, but reverses of fortune, you know; intimate friends of the Laurences; sweet creature, I assure you; my Ned is quite wild about her."
"Dear me!" said the old lady, putting up her glass for another observation of Meg, who tried to look as if she had not heard and been rather shocked at Mrs. Moffat's fibs. The 'queer feeling' did not pass away, but she imagined herself acting the new part of fine lady and so got on pretty well, though the tight dress gave her a side-ache, the train kept getting under her feet, and she was in constant fear lest her earrings should fly off and get lost or broken. She was flirting her fan and laughing at the feeble jokes of a young gentleman who tried to be witty, when she suddenly stopped laughing and looked confused, for just opposite, she saw Laurie. He was staring at her with undisguised surprise, and disapproval also, she thought, for though he bowed and smiled, yet something in his honest eyes made her blush and wish she had her old dress on. To complete her confusion, she saw Belle nudge Annie, and both glance from her to Laurie, who, she was happy to see, looked unusually boyish and shy.
"Silly creatures, to put such thoughts into my head. I won't care for it, or let it change me a bit," thought Meg, and rustled across the room to shake hands with her friend.
"I'm glad you came, I was afraid you wouldn't." she said, with her most grown-up air.
"Jo wanted me to come, and tell her how you looked, so I did," answered Laurie, without turning his eyes upon her, though he half smiled at her maternal tone.
"What shall you tell her?" asked Meg, full of curiosity to know his opinion of her, yet feeling ill at ease with him for the first time.
"I shall say I didn't know you, for you look so grown-up and unlike yourself, I'm quite afraid of you," he said, fumbling at his glove button.
"How absurd of you! The girls dressed me up for fun, and I rather like it. Wouldn't Jo stare if she saw me?" said Meg, bent on making him say whether he thought her improved or not.
"Yes, I think she would," returned Laurie gravely.
"Don't you like me so?" asked Meg.
"No, I don't," was the blunt reply.
"Why not?" in an anxious tone.
He glanced at her frizzled head, bare shoulders, and fantastically trimmed dress with an expression that abashed her more than his answer, which had not a particle of his usual politeness in it.
"I don't like fuss and feathers."
That was altogether too much from a lad younger than herself, and Meg walked away, saying petulantly, "You are the rudest boy I ever saw."
Feeling very much ruffled, she went and stood at a quiet window to cool her cheeks, for the tight dress gave her an uncomfortably brilliant color. As she stood there, Major Lincoln passed by, and a minute after she heard him saying to his mother…
"They are making a fool of that little girl. I wanted you to see her, but they have spoiled her entirely. She's nothing but a doll tonight."
"Oh, dear!" sighed Meg. "I wish I'd been sensible and worn my own things, then I should not have disgusted other people, or felt so uncomfortable and ashamed of myself."
She leaned her forehead on the cool pane, and stood half hidden by the curtains, never minding that her favorite waltz had begun, till some one touched her, and turning, she saw Laurie, looking penitent, as he said, with his very best bow and his hand out…
"Please forgive my rudeness, and come and dance with me."
Get the passage & questions on one printable PDF.