Morning at Green Gables
Reading Comprehension Activity
Author: Lucy Maud Montgomery
Chapter IV passage: The classic novel "Anne of Green Gables" follows the young orphan Anne Shirley as she begins her life with the Cuthbert siblings, Marilla and Matthew. In this passage, Marilla has made it clear that since Anne was sent by mistake, she must go back to the orphanage. Anne has spent the night at the Cuthberts and awakes to enjoy the beauty of Green Gables. After reading the passage, students will respond to questions on the language and character traits.
Topic(s): Realistic Fiction. Skill(s): Character Traits, Context Clues. Genre(s): Prose
Click for the passage & questions on one printable PDF.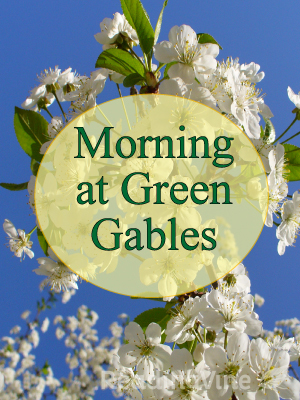 Anne Shirley is an orphan who has been sent by mistake to like with Marilla Cuthbert and her brother, Matthew. The Cuthberts wanted a boy orphan to help Matthew on the farm. Instead, they got Anne, a girl. Anne loves the Cuthberts' farm but knows that they are planning to send her back. She has spent one night there, and it is now morning.
—————————
It was broad daylight when Anne awoke and sat up in bed, staring confusedly at the window through which a flood of cheery sunshine was pouring and outside of which something white and feathery waved across glimpses of blue sky.
For a moment she could not remember where she was. First came a delightful thrill, as something very pleasant; then a horrible remembrance. This was Green Gables and they didn't want her because she wasn't a boy!
But it was morning and, yes, it was a cherry-tree in full bloom outside of her window. With a bound she was out of bed and across the floor. She pushed up the sash-it went up stiffly and creakily, as if it hadn't been opened for a long time, which was the case; and it stuck so tight that nothing was needed to hold it up.
Anne dropped on her knees and gazed out into the June morning, her eyes glistening with delight. Oh, wasn't it beautiful? Wasn't it a lovely place? Suppose she wasn't really going to stay here! She would imagine she was. There was scope for imagination here.
A huge cherry-tree grew outside, so close that its boughs tapped against the house, and it was so thick-set with blossoms that hardly a leaf was to be seen. On both sides of the house was a big orchard, one of apple-trees and one of cherry-trees, also showered over with blossoms; and their grass was all sprinkled with dandelions. In the garden below were lilac-trees purple with flowers, and their dizzily sweet fragrance drifted up to the window on the morning wind.
Below the garden a green field lush with clover sloped down to the hollow where the brook ran and where scores of white birches grew, upspringing airily out of an undergrowth suggestive of delightful possibilities in ferns and mosses and woodsy things generally. Beyond it was a hill, green and feathery with spruce and fir; there was a gap in it where the gray gable end of the little house she had seen from the other side of the Lake of Shining Waters was visible.
Off to the left were the big barns and beyond them, away down over green, low-sloping fields, was a sparkling blue glimpse of sea.
Anne's beauty-loving eyes lingered on it all, taking everything greedily in. She had looked on so many unlovely places in her life, poor child; but this was as lovely as anything she had ever dreamed.
She knelt there, lost to everything but the loveliness around her, until she was startled by a hand on her shoulder. Marilla had come in unheard by the small dreamer.
"It's time you were dressed," she said curtly.
Marilla really did not know how to talk to the child, and her uncomfortable ignorance made her crisp and curt when she did not mean to be.
Anne stood up and drew a long breath.
"Oh, isn't it wonderful?" she said, waving her hand comprehensively at the good world outside.
"It's a big tree," said Marilla, "and it blooms great, but the fruit don't amount to much never-small and wormy."
"Oh, I don't mean just the tree; of course it's lovely-yes, it's radiantly lovely-it blooms as if it meant it-but I meant everything, the garden and the orchard and the brook and the woods, the whole big dear world. Don't you feel as if you just loved the world on a morning like this? And I can hear the brook laughing all the way up here. Have you ever noticed what cheerful things brooks are? They're always laughing. Even in winter-time I've heard them under the ice. I'm so glad there's a brook near Green Gables. Perhaps you think it doesn't make any difference to me when you're not going to keep me, but it does. I shall always like to remember that there is a brook at Green Gables even if I never see it again. If there wasn't a brook I'd be haunted by the uncomfortable feeling that there ought to be one. I'm not in the depths of despair this morning. I never can be in the morning. Isn't it a splendid thing that there are mornings? But I feel very sad. I've just been imagining that it was really me you wanted after all and that I was to stay here for ever and ever. It was a great comfort while it lasted. But the worst of imagining things is that the time comes when you have to stop and that hurts."
Get the passage & questions on one printable PDF.