Our Foreign Correspondent
Reading Comprehension Activity
Author: Louisa May Alcott
Readers of Louisa May Alcott's classic novel "Little Women" follow the four March sisters as they grow up during the mid-19th century. In this passage, Amy, the youngest March sister, has gone to Europe with her aunt, uncle, and cousin. She writes to her sisters of her adventures in London and Paris, and perhaps there's a romance budding? Students will read the passage and answer questions on the vocabulary and the details.
Click for the passage & questions on one printable PDF.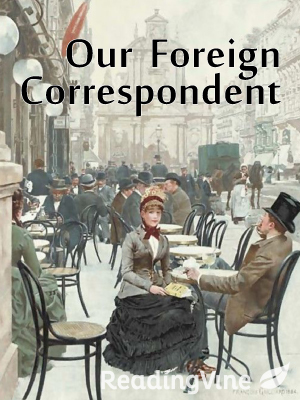 Little Women tells the story of the four March sisters growing up in the middle of the 1800s. As this passage begins, the youngest sister, Amy, is traveling in Europe with her uncle, aunt, and cousin. She writes home to her parents and sisters about her adventures in London, England and Paris, France. The travelers have met up with Fred and Frank Vaughn. Fred and Frank are friends of Laurie, the young man who lives next door to the March family. The Vaughns are a little older than Amy. Their sister Grace is closer to Amy's age.

Amy mentions her uncle saying "parley vooing" which refers to the French phrase parlez vous meaning "do you speak?" He actually means speaking or understanding.
—————————————————-
"Paris"
"Dear Girls,-
"In my last I told you about our London visit,-how kind the Vaughns were, and what pleasant parties they made for us. I enjoyed the trips to Hampton Court and the Kensington Museum more than anything else,-for at Hampton I saw Raphael's cartoons, and, at the Museum, rooms full of pictures by Turner, Lawrence, Reynolds, Hogarth, and the other great creatures. The day in Richmond Park was charming, for we had a regular English picnic, and I had more splendid oaks and groups of deer than I could copy; also heard a nightingale, and saw larks go up. We 'did' London to our hearts' content, thanks to Fred and Frank, and were sorry to go away; for, though English people are slow to take you in, when they once make up their minds to do it they cannot be outdone in hospitality, I think. The Vaughns hope to meet us in Rome next winter, and I shall be dreadfully disappointed if they don't, for Grace and I are great friends, and the boys very nice fellows,-especially Fred.
"Well, we were hardly settled here, when he turned up again, saying he had come for a holiday, and was going to Switzerland. Aunt looked sober at first, but he was so cool about it she couldn't say a word; and now we get on nicely, and are very glad he came, for he speaks French like a native, and I don't know what we should do without him. Uncle doesn't know ten words, and insists on talking English very loud, as if that would make people understand him. Aunt's pronunciation is old-fashioned, and Flo and I, though we flattered ourselves that we knew a good deal, find we don't, and are very grateful to have Fred do the 'parley vooing,' as uncle calls it.
"Such delightful times as we are having! sight-seeing from morning till night, stopping for nice lunches in the gay cafés, and meeting with all sorts of droll adventures. Rainy days I spend in the Louvre, reveling in pictures. Jo would turn up her naughty nose at some of the finest, because she has no soul for art; but I have, and I'm cultivating eye and taste as fast as I can. She would like the relics of great people better, for I've seen here Napoleon's cocked hat and gray coat, his baby's cradle and his old toothbrush; also Marie Antoinette's little shoe, the ring of Saint Denis, Charlemagne's sword, and many other interesting things. I'll talk for hours about them when I come, but haven't time to write.
Get the passage & questions on one printable PDF.