Secrets
Reading Comprehension Activity
Author: Louisa May Alcott
Chapter Fourteen passage: Much of Louisa May Alcott's Civil War novel "Little Women" was autobiographical. This passage is proof of this as young Jo celebrates with her sisters the publication of her first story. After reading the passage, students will be asked to use context clues to decipher words and answer questions on the theme and the characters.
Topic(s): Realistic Fiction. Skill(s): Theme, Character Traits, Context Clues. Genre(s): Prose
Click for the passage & questions on one printable PDF.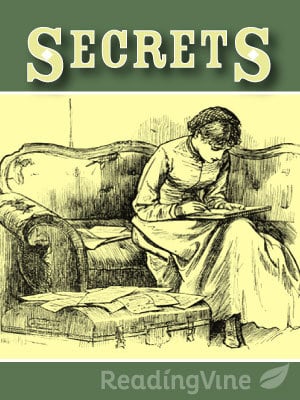 Little Women is the story of four sisters growing up during the Civil War. Each March sister has a distinct personality. Meg, the oldest, is dignified and proper. Jo, next in age, is energetic and wants to be a writer. Beth is shy and quiet and loves music. Amy, the youngest, is spoiled, a little conceited, and enjoys art. In this passage, Jo has a secret surprise to tell her sisters. Laurie is the boy who lives next door, and Hannah is the March's servant. The Spread Eagle is a newspaper in the town.
————————————-
In a few minutes Jo bounced in, laid herself on the sofa, and affected to read.
"Have you anything interesting there?" asked Meg, with condescension.
"Nothing but a story, won't amount to much, I guess," returned Jo, carefully keeping the name of the paper out of sight.
"You'd better read it aloud. That will amuse us and keep you out of mischief," said Amy in her most grown-up tone.
"What's the name?" asked Beth, wondering why Jo kept her face behind the sheet.
"The Rival Painters."
"That sounds well. Read it," said Meg.
With a loud "Hem!" and a long breath, Jo began to read very fast. The girls listened with interest, for the tale was romantic, and somewhat pathetic, as most of the characters died in the end. "I like that about the splendid picture," was Amy's approving remark, as Jo paused.
"I prefer the lovering part. Viola and Angelo are two of our favorite names, isn't that queer?" said Meg, wiping her eyes, for the lovering part was tragical.
"Who wrote it?" asked Beth, who had caught a glimpse of Jo's face.
The reader suddenly sat up, cast away the paper, displaying a flushed countenance, and with a funny mixture of solemnity and excitement replied in a loud voice, "Your sister."
"You?" cried Meg, dropping her work.
"It's very good," said Amy critically.
"I knew it! I knew it! Oh, my Jo, I am so proud!" and Beth ran to hug her sister and exult over this splendid success.
Dear me, how delighted they all were, to be sure! How Meg wouldn't believe it till she saw the words. "Miss Josephine March," actually printed in the paper. How graciously Amy criticized the artistic parts of the story, and offered hints for a sequel, which unfortunately couldn't be carried out, as the hero and heroine were dead. How Beth got excited, and skipped and sang with joy. How Hannah came in to exclaim, "Sakes alive, well I never!" in great astonishment at 'that Jo's doin's'. How proud Mrs. March was when she knew it. How Jo laughed, with tears in her eyes, as she declared she might as well be a peacock and done with it, and how the 'Spread Eagle' might be said to flap his wings triumphantly over the House of March, as the paper passed from hand to hand.
"Tell us about it." "When did it come?" "How much did you get for it?" "What will Father say?" "Won't Laurie laugh?" cried the family, all in one breath as they clustered about Jo, for these foolish, affectionate people made a jubilee of every little household joy.
Get the passage & questions on one printable PDF.