Swara the Snow White Swan
Reading Comprehension Activity
Author: RV Staff Writer E.T.
Swara is a beautiful white swan. She would rather sit alone at the lake than play with the other ducks and turtles. The other animals don't understand why she is so quiet. Will Swara be able to explain how she feels? Students will read the passage and answer follow-up questions about character and other story elements. This passage also includes vocabulary from the Dolch Sight Words list.
Topic(s): Science Fiction / Fantasy. Skill(s): Theme, Character Traits, Fact & Opinion. Genre(s): Prose
Click for the passage & questions on one printable PDF.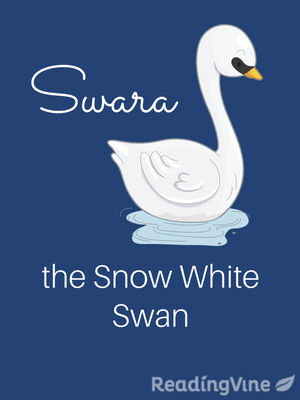 Swara was a swan. Her feathers were as white as snow. She lived at the lake with her friends, the ducks and turtles.
All the ducks liked to splash and swim. Some even liked to dive head-first into the water and kick their orange feet into the air. The turtles were also good swimmers. They were fast in the water.
Swara did not like to swim. She liked to study the ants in the grass. She also liked to sit quietly and watch the clouds float across the sky. Swara liked to make pictures out of the fluffy clouds.
"Want to play, Swara?" asked Denny. Denny was a brown duck with a green head.
"No, thank you." Swara was looking at the ground, where a line of ants dug into the sand near the lake.
"Why not? Don't you feel well?" asked Denny.
"I'm fine, thank you," said Swara. "I just like to play by myself."
Denny kicked his feet under the water. "But you have to play with other people to have fun," said Denny. "Being alone is, well, lonely!"
Swara looked up at Denny. "I don't think so," she said. She stepped out of the lake and followed the line of ants up into the grass. Her long neck was bent toward the ground so she could see better.
Denny watched Swara walk away. He thought that being alone all the time must feel very sad. But Swara didn't look sad. She looked very interested and alert.
Denny hopped out of the lake and followed Swara. He also looked at the ground. "I never noticed so many ants!" Denny cried.
"Shh," said Swara. "If you're loud, you'll scare them away. You get to see all kind of things when you're quiet."
Denny tried to be quiet. He usually played loudly in the lake with the other ducks, but he wanted to keep looking at new things. Even though they weren't talking, it was nice just to walk near Swara. It felt very friendly.
"I thought you were lonely, but it looks like you have a lot of friends in the grass," Denny said.
Swara smiled. "You can watch them with me. I'd like that."
So, the duck and the swan spent a quiet day together, learning all about ants. And Denny learned that being alone doesn't have to be lonely.
Get the passage & questions on one printable PDF.
Scroll To Top