The Autobiography of Benjamin Franklin: Part Two
Reading Comprehension Activity
Author: Benjamin Franklin
Benjamin Franklin (1706-1790) was one of the most colorful "Founding Fathers" of the United States. He was, among many things, a printer, inventor, diplomat, philosopher, and statesman. This passage is from his autobiography which was first published in French in 1791. Students will read the passage and answer comprehension questions and compare Franklin's library to modern libraries.
Topic(s): History. Skill(s): Summary, Compare & Contrast, Main / Central Idea. Genre(s): Prose, Biography / Autobiography
Click for the passage & questions on one printable PDF.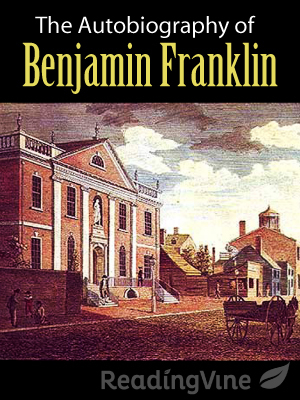 At the time I establish'd myself in Pennsylvania, there was not a good bookseller's shop in any of the colonies to the southward of Boston. In New York and Philad'a the printers were indeed stationers; they sold only paper, etc., almanacs, ballads, and a few common school-books. Those 78 who lov'd reading were oblig'd to send for their books from England; the members of the Junto had each a few. We had left the alehouse, where we first met, and hired a room to hold our club in. I propos'd that we should all of us bring our books to that room, where they would not only be ready to consult in our conferences, but become a common benefit, each of us being at liberty to borrow such as he wish'd to read at home. This was accordingly done, and for some time contented us.
Finding the advantage of this little collection, I propos'd to render the benefit from books more common, by commencing a public subscription library. I drew a sketch of the plan and rules that would be necessary, and got a skilful conveyancer, Mr. Charles Brockden, to put the whole in form of articles of agreement to be subscribed, by which each subscriber engag'd to pay a certain sum down for the first purchase of books, and an annual contribution for increasing them. So few were the readers at that time in Philadelphia, and the majority of us so poor, that I was not able, with great industry; to find more than fifty persons, mostly young tradesmen, willing to pay down for this purpose forty shillings each, and ten shillings per annum. On this little fund we began. The books were imported; the library was opened one day in the week for lending to the subscribers, on their promissory notes to pay double the value if not duly returned. The institution soon manifested its utility, was imitated by other towns, and in other provinces. The libraries were augmented by donations; reading became fashionable; and our people, having no publick amusements to divert their attention from study, became better acquainted with books, and in a few years were observ'd by strangers to be better instructed and more intelligent than people of the same rank generally are in other countries.
Get the passage & questions on one printable PDF.