The Birthday Wish
Reading Comprehension Activity
Polly is very excited about her birthday party. When she blows her candles out, will her wish come true? Students will read the passage and answer follow-up questions about vocabulary and other story elements.
Topic(s): Realistic Fiction. Skill(s): Fact & Opinion, Context Clues, Story Elements. Genre(s): Prose
Click for the passage & questions on one printable PDF.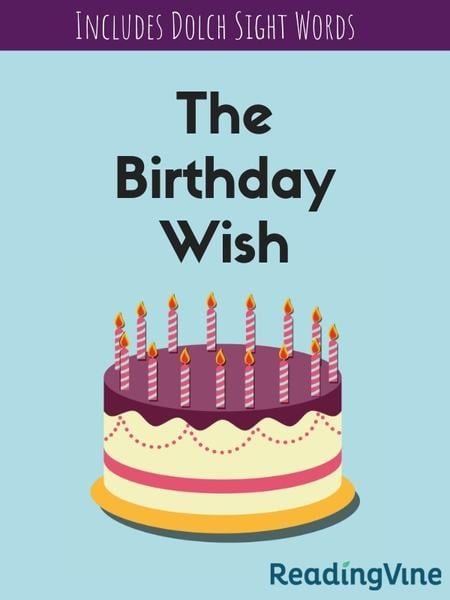 Polly was very excited about her birthday party. She invited her five best friends to a party at Green Tree Farm. Her father had blown up colorful balloons and tied them to the fence along the horse pasture. In the barn, there was a table with cake and party hats.
One by one, Polly's friends arrived and found the barn. The children each brought a present for Polly, which she carefully placed upon the table next to the cake.
"Happy birthday, Polly!" they said.
Polly took her friends out into the pasture. There were plenty of chickens and ducks to see, but they scooted away before the children got too close. There was also a horse that walked slowly along the fence, nibbling grass. Polly loved the farm.
All the children played tag in the grassy field. When they were tired, they went into the barn to rest and have lemonade. Inside the barn they played hide and seek. When it was Polly's turn to look for her friends, she found an egg! It was still warm because one of the chickens had just laid it. Polly carefully carried the egg to her mother before she went back to the game.
Next, Polly's mother lit the candles on the birthday cake. Everyone sang, and then Polly blew out the candles. Polly wished that she could ride the horse. She had never ridden a horse before, and she loved them very much.
After they ate cake, Polly opened her presents. She thanked her friends for their gifts.
The party was almost over, but Polly's mother had one last surprise. "Who would like a ride on the horse?" she asked.
Everyone jumped up and down. Polly let her friends take their turns first. When she climbed on the lovely brown horse, she hugged its neck tight. The horse walked slowly around the pasture and was very gentle.
Polly had gotten her birthday wish, and it was very special. She would never forget her first horse ride.
Get the passage & questions on one printable PDF.