The Ice Cream Stand
Reading Comprehension Activity
Tiegan and Jonas love to eat ice cream at the local ice cream stand. One day Tiegan gets the wrong ice cream in her cone. Will her brother be able to help? Students will read the passage and answer follow-up questions about vocabulary and other story elements. This reading passage also includes Dolch Sight Words from the Pre-Primer and Primer lists.
Topic(s): Realistic Fiction. Skill(s): Fact & Opinion, Context Clues, Main / Central Idea. Genre(s): Prose
Click for the passage & questions on one printable PDF.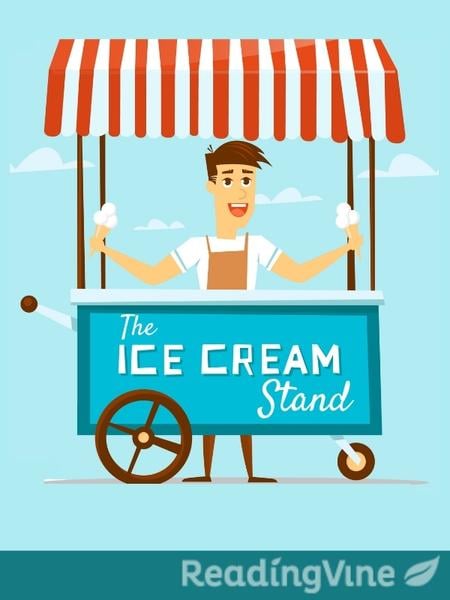 Tiegan and Jonas lived in a small town near the beach. Every summer, the ice cream stand opened back up. On the first day, Tiegan and Jonas would always get two small ice cream cones.
The ice cream stand had many flavors, and it was often hard for Tiegan to decide which one to get. Jonas never had any trouble. He always ordered the same thing. "One chocolate cone, please," he said to the woman behind the counter.
Tiegan looked at all the flavors. There were so many pretty colors, and they all looked tasty. Finally, she decided she would like to try the cake batter ice cream.
They paid for their cones and each took a lick. "Yum!" said Jonas.
"Yuck," said Tiegan. Her cone didn't taste anything like cake batter. She knew, because she always licked the spoon when her dad made a cake.
"Let me taste," said Mom. Mom took a lick of Tiegan's cone. "That's not cake batter. That's rum raisin. It looks like they scooped the wrong flavor into your cone."
"Oh," Tiegan said. She did not like raisins. She was very sad that her ice cream cone didn't taste good.
"I'm sorry," said Mom. "But we don't have any more money to get you a new cone. I only brought a dollar for each of you."
Tiegan tried another lick of her ice cream. She tried to like it, but she just couldn't. It did not taste good to her at all. She thought she might cry.
Jonas noticed that his sister seemed very sad. He wanted to help. "You can share my chocolate with me," said Jonas. "I don't mind."
So, Tiegan and Jonas passed the chocolate cone back and forth and ate it up quickly, before any could drip on the ground during the hot summer day.
Get the passage & questions on one printable PDF.