The Island Come True
Reading Comprehension Activity
Author: J.M. Barrie
Chapter 5 Passage: J.M. Barrie's "Peter Pan" is the wonderful adventure story of a magical boy who meets the Darling children in London. In this passage, evil Captain Hook tells about the crocodile that is after him. After reading the passage, students will use context clues to determine the meaning of words and answer comprehension questions.
Topic(s): Adventure / Thriller, Science Fiction / Fantasy. Skill(s): Summary, Context Clues, Story Elements. Genre(s): Prose
Click for the passage & questions on one printable PDF.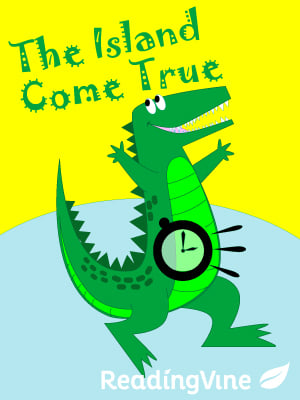 Peter Pan is the story of a boy who did not want to grow up and his adventures in a magical place called Neverland. Many interesting people live in Neverland including some wicked pirates lead by Captain Hook, Peter's biggest enemy. In this passage, Hook tells his bo'sun, or ship's officer, how Peter is to blame for Hook losing his hand. Hook now wears an iron hook where his was.
—————————————
The pirates disappeared among the trees, and in a moment their Captain and Smee were alone. Hook heaved a heavy sigh, and I know not why it was, perhaps it was because of the soft beauty of the evening, but there came over him a desire to confide to his faithful bo'sun the story of his life. He spoke long and earnestly, but what it was all about Smee, who was rather stupid, did not know in the least.
Anon he caught the word Peter.
"Most of all," Hook was saying passionately, "I want their captain, Peter Pan. 'Twas he cut off my arm." He brandished the hook threateningly. "I've waited long to shake his hand with this. Oh, I'll tear him!"
"And yet," said Smee, "I have often heard you say that hook was worth a score of hands, for combing the hair and other homely uses."
"Ay," the captain answered, "if I was a mother I would pray to have my children born with this instead of that," and he cast a look of pride upon his iron hand and one of scorn upon the other. Then again he frowned.
"Peter flung my arm," he said, wincing, "to a crocodile that happened to be passing by."
"I have often," said Smee, "noticed your strange dread of crocodiles."
"Not of crocodiles," Hook corrected him, "but of that one crocodile." He lowered his voice. "It liked my arm so much, Smee, that it has followed me ever since, from sea to sea and from land to land, licking its lips for the rest of me."
"In a way," said Smee, "it's sort of a compliment."
"I want no such compliments," Hook barked petulantly. "I want Peter Pan, who first gave the brute its taste for me."
He sat down on a large mushroom, and now there was a quiver in his voice. "Smee," he said huskily, "that crocodile would have had me before this, but by a lucky chance it swallowed a clock which goes tick tick inside it, and so before it can reach me I hear the tick and bolt." He laughed, but in a hollow way.
"Some day," said Smee, "the clock will run down, and then he'll get you."
Hook wetted his dry lips. "Ay," he said, "that's the fear that haunts me."
Get the passage & questions on one printable PDF.