The Land of Counterpane
Reading Comprehension Activity
Author: Robert Louis Stevenson
This poem is from "A Child's Garden of Verses" by Robert Louis Stevenson. Stevenson is also well-known for his classic novels "Treasure Island" and "Kidnapped." Students will read the poem and answer questions on the theme, the language, and the imagery.
Topic(s): Realistic Fiction. Skill(s): Theme, Figurative Language, Rhythm & Rhyme. Genre(s): Poetry
Click for the passage & questions on one printable PDF.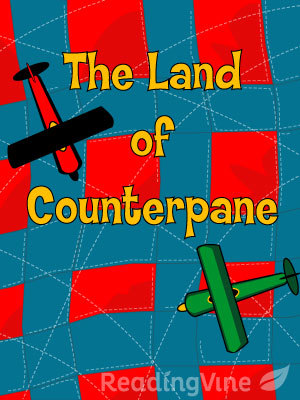 A counterpane is a quilt or bedspread.
———————————————-
When I was sick and lay a-bed,
I had two pillows at my head,
And all my toys beside me lay
To keep me happy all the day.
And sometimes for an hour or so
I watched my leaden soldiers go,
With different uniforms and drills,
Among the bed-clothes, through the hills;
And sometimes sent my ships in fleets
All up and down among the sheets;
Or brought my trees and houses out,
And planted cities all about.
I was the giant great and still
That sits upon the pillow-hill,
And sees before him, dale and plain,
The pleasant land of counterpane.
Get the passage & questions on one printable PDF.