The New Girl at School
Reading Comprehension Activity
Author: Elizabeth T.
Eric is excited to meet the new student in his class, but she doesn't speak English yet. How can they become friends? Students will read the passage and answer follow-up questions about character and other story elements.
Topic(s): Realistic Fiction. Skill(s): Character Traits, Story Elements. Genre(s): Prose
Click for the passage & questions on one printable PDF.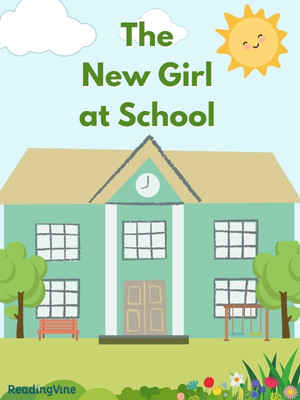 One morning Eric's teacher began the day with an announcement. "Today we have a new student joining our class," she said. "Please welcome Akiko to second grade and to America."
Everyone said hello. Akiko smiled and looked down at the floor. "Akiko is from Japan. She is still learning English, and I am sure you will do your best to help her," Ms. Sloane said.
Ms. Sloane showed Akiko to the desk next to Eric. "Akiko, this is Eric," Ms. Sloane said. She spoke slowly and pointed to Eric. "Eric," she said again.
Akiko nodded and sat down. She looked nervous, and Eric wanted to make her feel better. "Hello, Akiko!" he said.
"Kon'nichiwa," said Akiko.
"That must mean hello," Eric thought. "But how can we be friends if we can't talk to each other?"
Ms. Sloan began the day with math lessons. Eric had trouble remembering all of his math facts, so it took him longer than most kids to finish his worksheet. He glances at Akiko, who was already finished. "I guess numbers are the same everywhere," Eric thought.
Akiko looked at Eric's paper and pointed to a problem. She shook her head. "Go," she said.
"Go where?" asked Eric.
"Go. Go," Akiko said again. She tapped her hand five times on the desk. "Ichi, ni, san, shi, go."
"Oh! Five!" said Eric. "One, two, three, four, five!" He tapped the desk with each number the same way Akiko did.
Akiko smiled. "Five?" she asked.
Eric nodded. "Five! Go!" He erased his answer and wrote the numeral 5 on his paper.
Akiko smiled. Eric smiled back. With a little practice, he could learn Japanese and help Akiko learn English. This was exciting!
For the rest of the day, Eric pointed to things and told Akiko the English words for them. Akiko told Eric the Japanese words, too. They ate lunch together and played baseball with the other children at recess. It turned out that you didn't need many words at all to become friends.
Get the passage & questions on one printable PDF.