The Rush
Reading Comprehension Activity
Author: May Kellogg Sullivan
Chapter IV passage: During the Klondike Gold Rush in the late 1890s, May Kellogg Sullivan went with her father and brother to search for gold. She kept a journal of her adventures which was published in 1902. In this passage, Sullivan and her brother are on a steamer deeper into the Alaskan frontier. After reading the text, students will respond to questions on the main idea, the characters, and the language.
Topic(s): Adventure / Thriller, History. Skill(s): Character Traits, Main / Central Idea. Genre(s): Informational, Biography / Autobiography, Journal / Diary
Click for the passage & questions on one printable PDF.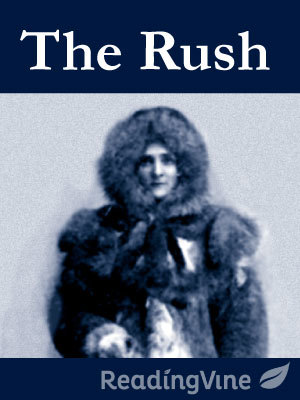 The Klondike Gold Rush began in 1896 with the discovery of gold in Alaska and Canada. Over 100,000 people hurried to the area in order to find their own fortune of gold. One of these people was May Kellogg Sullivan, who along with her brother and father, went to get rich. In this passage, Sullivan and her brother are on a steamer, or steam-driven ship, to the deeper parts of Alaska. Sullivan wrote about her adventures in 1902.
———————————–
We had now a journey of seventeen hundred miles before us. We were to traverse a country almost unknown to man. We were two of a party of five hundred persons, the majority of whom, if not actually desperadoes, were reckless and given over to the pursuit of gold regardless of the manner of its getting. There were loose characters of the town by hundreds; there were gamblers running a variety of games both day and night; there were dance house girls and musicians; there were drunks and toughs, and one prize fighter. No firearms or knives were seen, though many, no doubt, had them.
With the enormous amount of gold on board (for the steamer's safe was overflowing, and the purser's room well packed with the precious stuff), with the numbers of hard characters we carried, and the now increasing remoteness from centres of government, there were dangers, we were forced to confess, but which we only admitted in whispers.
Three hours after leaving Dawson we were taking on wood at Forty Mile. This is the oldest camp on the Yukon River, and the early home of Jack McQuestion. The river banks were lined with canoes; many natives stood looking at us from the shore, and while stevedores handled the wood, many passengers visited the town. It was not long before they came back with hands full of turnips, just pulled from the ground, which, had they been the most luscious fruit, could not have been eaten with more relish.
I then tried to buy one of a young man, but he had evidently been long away from such luxuries, for he refused to sell; afterward, his gallantry getting the better of him, he politely offered me one-half of the vegetable, which I took with thanks.
As my brother peeled the precious turnip, I asked him how long since he had eaten one. "Two years," he promptly replied. Knowing that he was especially fond of such things, I ate a small slice, and gave him the remainder. It is needless to say he enjoyed it.
Get the passage & questions on one printable PDF.