The Snowman
Reading Comprehension Activity
Jenna and Jesse have a snow day! They decide to build a snowman in their backyard, but they don't have any carrots. What will the use for a nose? Students will answer questions about story elements and sensory language after reading the story.
Topic(s): Realistic Fiction. Skill(s): Theme, Figurative Language, Story Elements. Genre(s): Prose
Click for the passage & questions on one printable PDF.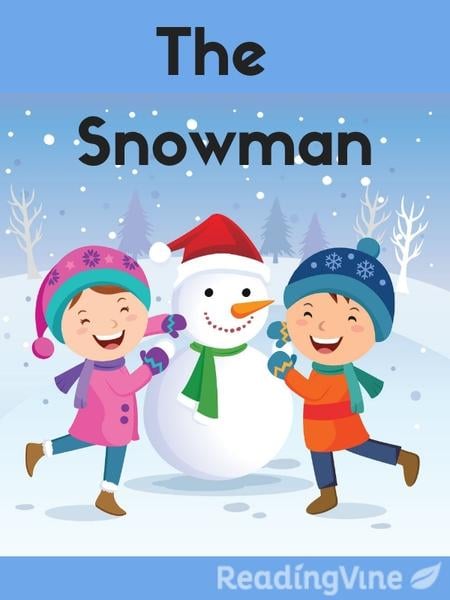 Jenna woke up and looked at her alarm clock. It was 10 o'clock. "Oh, no!" she cried. "We're late for school!"
Jenna ran downstairs. Her brother, Jesse, sat at the kitchen table. He was eating a bowl of cereal. "We're not late," he said. "Look out the window."
Jenna looked out the kitchen window. Everything was covered in snow. Fat fluffy flakes were still falling. Jenna and Jesse had a snow day.
Jenna ate her breakfast quickly. The two children hurried to get dressed for the snow. The brother and sister each put on a warm coat, boots, gloves and a hat. Then they ran out into the bright white backyard.
"Let's make a snowman!" said Jenna. She began to make a snowball in her hands. Then she put it on the ground and rolled it around. The snow ball got bigger and bigger as she worked.
"I'll make the head while you do the body," said Jesse. He made his own smaller snowball to put on top of Jenna's.
They looked at the snowman. He still needed a face. "I can use my button collection for the eyes," said Jenna. "What about the nose?"
"I'll get a carrot from the kitchen," said Jesse. They went inside to get their supplies.
Back outside, Jenna put two big, blue buttons on the top snowball for eyes. She also added a line of red buttons for a smiling mouth.
Jesse came outside looking sad. "We're out of carrots," he said.
Jenna and Jesse sat down in the snow to think. Jenna was out of buttons, and all of the sticks were buried under the new snow.
Suddenly, the back door opened. Their dog, Max, ran out in the snow to play, too. In his mouth was a bright yellow tennis ball.
"What about Max's ball?" asked Jesse. "It would make a big nose!"
"Is that okay, Max?" asked Jenna. The dog wagged his tail and dropped the ball in front of the snowman. "Woof!" he said.
So Jenna and Jesse gave their snowman a big yellow nose. Then they played tag with Max before going inside for some hot cocoa on their snow day.
Get the passage & questions on one printable PDF.