Young Frederick Douglass
Reading Comprehension Activity
Author: Frederick Douglass
Chapter VIII passage: Frederick Douglass, born about 1818, was an icon of the abolitionist movement. Born into slavery, he escaped to freedom as a young man. His insights into the misery of slavery were invaluable to the movement. This passage is from his autobiography and tells of when he was just 10 years old. After reading the selection, students will answer questions on the plot and the theme.
Topic(s): History. Skill(s): Theme, Summary. Genre(s): Biography / Autobiography
Click for the passage & questions on one printable PDF.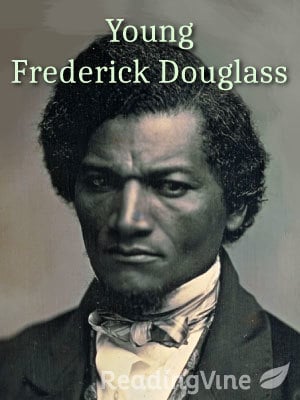 Frederick Douglass (c. 1818-1895) was born into slavery in Maryland. As an adult, he escaped into freedom. He became a writer, orator and advocate for the abolition of slavery. In 1845, 16 years before the start of the Civil War, Douglass published his autobiography, Narrative of the Life of Frederick Douglass, An American Slave. In this passage from Chapter VIII, Douglass is a 10 year old slave.
——————————–
In a very short time after I went to live at Baltimore, my old master's youngest son Richard died; and in about three years and six months after his death, my old master, Captain Anthony, died, leaving only his son, Andrew, and daughter, Lucretia, to share his estate. He died while on a visit to see his daughter at Hillsborough. Cut off thus unexpectedly, he left no will as to the disposal of his property. It was therefore necessary to have a valuation of the property, that it might be equally divided between Mrs. Lucretia and Master Andrew. I was immediately sent for, to be valued with the other property. Here again my feelings rose up in detestation of slavery. I had now a new conception of my degraded condition. Prior to this, I had become, if not insensible to my lot, at least partly so. I left Baltimore with a young heart overborne with sadness, and a soul full of apprehension. I took passage with Captain Rowe, in the schooner Wild Cat, and, after a sail of about twenty-four hours, I found myself near the place of my birth. I had now been absent from it almost, if not quite, five years. I, however, remembered the place very well. I was only about five years old when I left it, to go and live with my old master on Colonel Lloyd's plantation; so that I was now between ten and eleven years old.
We were all ranked together at the valuation. Men and women, old and young, married and single, were ranked with horses, sheep, and swine. There were horses and men, cattle and women, pigs and children, all holding the same rank in the scale of being, and were all subjected to the same narrow examination. Silvery-headed age and sprightly youth, maids and matrons, had to undergo the same indelicate inspection. At this moment, I saw more clearly than ever the brutalizing effects of slavery upon both slave and slaveholder.
After the valuation, then came the division. I have no language to express the high excitement and deep anxiety which were felt among us poor slaves during this time. Our fate for life was now to be decided. we had no more voice in that decision than the brutes among whom we were ranked. A single word from the white men was enough-against all our wishes, prayers, and entreaties-to sunder forever the dearest friends, dearest kindred, and strongest ties known to human beings. In addition to the pain of separation, there was the horrid dread of falling into the hands of Master Andrew. He was known to us all as being a most cruel wretch,-a common drunkard, who had, by his reckless mismanagement and profligate dissipation, already wasted a large portion of his father's property. We all felt that we might as well be sold at once to the Georgia traders, as to pass into his hands; for we knew that that would be our inevitable condition,-a condition held by us all in the utmost horror and dread.
Get the passage & questions on one printable PDF.