R Controlled Vowels Worksheets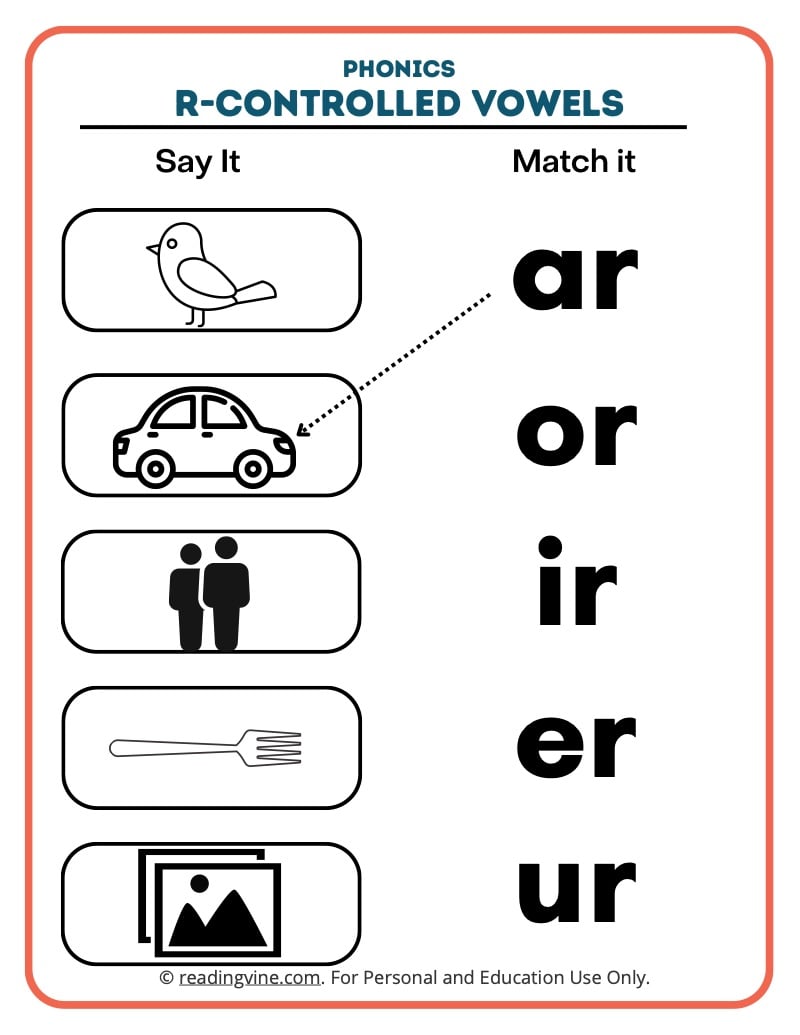 Welcome to our page all about r-controlled vowels! Here, you will explore the concept of identifying r-controlled vowels, why this skill is important to early readers and find printable r-controlled vowels worksheets to practice at home or in the classroom with your students. An r-controlled vowel is a spelling pattern in which a vowel is directly before the letter R. When this pattern occurs, the sound of the vowel is changed. This pattern can be tricky for early readers as there are multiple new sounds to be learned, and there are also a number of exceptions to the rule.
There are three new sounds and five new spelling types to learn when learning r-controlled vowels. Keep reading for some examples of words that follow the r-controlled vowel pattern. The first word is car. When A is followed by the letter R, it makes the sound ar. Note that this changes from the regular short or long vowel sound of the letter A. The next word is four. The vowel O making the sound "or" when followed by the letter R. The last three vowel R words are the same sound, but are spelled differently depending on the word. For example, ir, ur, and er all make the sound "ur". For this pattern, learners will need to memorize which words use which spelling pattern. Typically, but not always, the letters er are used when the sound "ur" is at the end of a word. R-controlled vowels are one of the most seen letter patterns in words in the English language.
In order to become fluent readers, learners will need to identify and apply this skill to help them to read new words and syllables. There are many activities you can use to build r-controlled vowel reading and writing skills at home. This activity focuses on differentiating the sounds AR vs OR. First, say or write the letters AR and OR on sticky notes. Then, say the name of a word or show a picture of a word that has either sound. Have learners think about which r-controlled vowel team they hear in the word and then decide if they hear AR or OR. As an extension, you could add in er, ir and ur words as well. Just keep in mind these words are a bit trickier to identify by their sound. We hope this was a helpful introduction to r-controlled vowels!
R Controlled Vowels Worksheets
Students will practice r-controlled vowels by adding -er onto the end of words in this printable cut and paste activity.
Students will practice identifying the correct r-controlled vowel sounds with this fun matching activity!