Summer Reading Programs for Middle School Students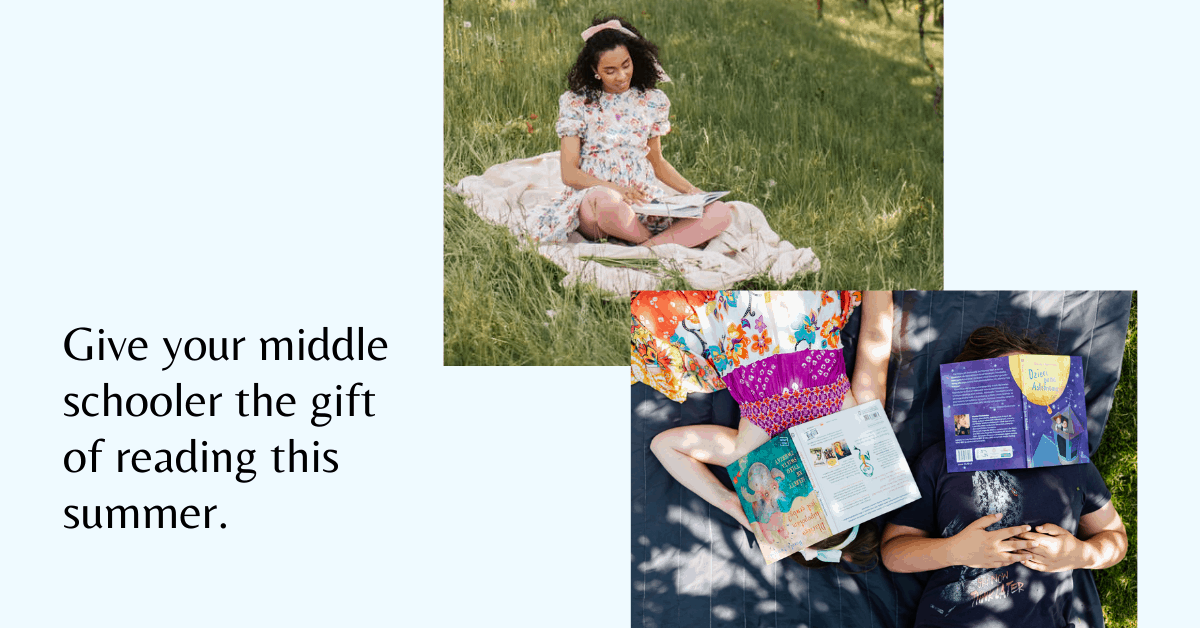 Summer is a largely unstructured time for students, which often leads to a significant reduction in the amount of reading they do – and the amount of information they gain. In some cases, students may even lose some of the reading skills and strategies they spent all year building. The solution to this conundrum: summer reading programs for middle school students.
Why is middle school an especially crucial time for reading?
Read on for:
why middle school students face reading comprehension loss over the summer
where to find summer reading programs in your community
free online summer reading programs for middle school students
how to create a personalized summer reading "program" for your child at home
Summer is for rest and relaxation – but that doesn't mean your child should play video games, scroll through social media, or simply lay around for three months.
They can soak up some sun and some good reading material at the same time.
What happens to information retention over the summer?
Knowledge and skills are not permanent – you have to constantly practice recalling and using them. This applies to reading and other academic skills your student has learned over the summer.
If they are not actively engaging in some form of reading over the summer, their reading and critical thinking skills will not improve. If your student spends their whole summer passively, they may even struggle in the fall to get back to the reading and thought processing levels they were at before summer break.
Related: Read more about what learning loss means and how it affects your child.
This is why summer reading programs exist: to keep children actively engaging their brains outside of school.
And with that, here are summer reading programs for middle school students.
Local Summer Reading Programs: Find out what's around you.
There are many opportunities for your child to get involved locally, especially if you live in a bigger town or city. We recommend starting your search in the following places:
Your Local Library
So many public libraries have free summer reading programs. Some include rewards for reading a certain number of books, or for a certain amount of time each day. Other public library systems might even partner with local businesses for free food, ice cream, or prizes.
Go on your public library's website (or search "libraries near me") and look for summer reading programs for middle school students. If you don't see anything about summer reading on their website, call or email your local library to find out what's out there.
And if your library system doesn't have an established summer reading program — partner with your library and start one!
Your Child's School District
Your child's home school might already have an established summer reading program for middle schoolers.
If your child's home school is within a larger school district, then it's very likely that there's a district-wide program.
You just have to go looking for it.
Local Churches, Universities, and Other Public Institutions
Churches, museums, science and history centers, and universities sometimes offer summer reading programs to engage children over the summer.
When it comes to local places like this, you just have to ask — you'd be surprised what's out there.
Online Summer Reading Programs for Middle School Students
The pandemic forced everyone to move online, which has made learning and reading more widespread and accessible than ever.
So there are a lot of online options for your child, such as:
Image courtesy of Camp BOOK IT!
Camp BOOK IT! Is an online summer reading program that runs from June through August. The program offers e-books, reading recommendations, and other fun forms of reading to give your child a variety of options.
But what's really unique about it is that it includes an online goal setting and progress checking platform. You monitor your child's progress and — once they meet their monthly goal — they can get a coupon for a free personal pan pizza from Pizza Hut.
Related: This is how comic books can improve your child's reading skills.
Image courtesy of Half Price Books.
Half Price Books is a chain of reading stores, sort of like Barnes and Noble, that offers a summer reading program from June-August.
If your child meets their monthly reading goal, they can get $5 off any book at any Half Price Books store.
Image courtesy of Barnes and Noble.
Barnes and Noble has their own reading program, and it's very easy to participate in.
Students in grades 1-6 who read 8 books over the summer can choose a free book from Barnes and Noble's list of summer reading adventure books.
Just download a "summer reading journal", have your child write down the books they have read, and take the completed list to a local Barnes and Noble. There, your child can collect their prize.
Image courtesy of Scholastic.
Scholastic is one of the most well known book distributors for K-8 schools.
They also have a large summer reading program, complete with an online reading platform called Home Base. Once you sign your child up for a safe, free Scholastic Home Base account, they can read books online, play book based games, track their progress, and get digital experiences/prizes.
Scholastic also borrowed the idea of streaks from platforms like Snapchat and Duolingo. As your child consistently reads and tracks progress online, they are increasing their "streak". The longer their streak, the more digital experiences/prizes they earn.
The program usually runs from the end of April to the beginning of September. Sign your child up now so they can build up a longer streak!
Create one of your own summer reading programs for middle school students this year.
If you live in a rural area, or can't physically get to somewhere like a Barnes and Noble, your middle schooler doesn't have to miss out.
It's just going to take slightly more work to create a structured program like the ones above in your own home.
Here are some different ways to engage your child in a summer reading "program".
Use social media to your advantage.
Social media is engaging, accessible, and lends itself to habit-building for younger readers.
Let your young reader create an Instagram, TikTok, or Snapchat dedicated to their summer reading journey – with the right level of parental supervision and monitoring, of course. With it, they can:
share their summer reading lists with friends
post reading progress updates
create short videos with book summaries and reviews
create reading "streaks" by posting every day
remember what they have read over the summer in case they want to reread or recommend something to someone
You, of course, can follow their reading account to watch their reading journey (and to make sure they're focusing more on reading than posting and chatting.)
Using social media for reading can take an individualistic activity and make it more social. Not only will your middle school student read more over the summer – they might inspire their friends to start reading more, too!
Replicate the physical things your child would get in a summer reading program: a reading log, certificate of achievement, etc.
Canva is a free template-based tool that you can use to create anything, including fun summer reading materials.
Image courtesy of Canva.
Harness the power of Canva to quickly create a simple, but official-looking summer reading log, certificate – you could even make a "prize" list for them to choose from. Print these things out for your child to have.
They get the satisfaction of writing it down and you get to see what they're reading right now.
If you don't have the time or energy to make your child their own personalized summer reading materials, you can definitely find some pre-made ones on Pinterest.
Be open-minded about what counts as "summer reading."
Your child has read traditional texts for the majority of the school year.
The summer is a time of exploration and discovery. Your child doesn't have the confines of school to hold back their interests and imagination.
So let them expand their reading choices. Every reading material — whether it's War and Peace or a graphic novel — has value.
Who knows? Your child might be a famous graphic novelist one day.
Create a group of middle school readers.
Get your child's friends into summer reading, too. They can all read the same thing if they want, or similar works, and discuss their reading while they hang out (online or in person.)
It might help to choose a specific day for them to get together and have a sort of "book club." It might also help to entice them with a trip to the ice cream shop or the beach — somewhere they can enjoy while talking about their reading.
The Parent's Question of the Century: To reward or not to reward?
On one hand, you don't want your child to read to get something (like money) out of it. You want them to naturally want to read.
But some younger students are intimidated by reading, find it boring, or "have something better to do."
The trick is to make reading the most appealing thing out of all their available options.
Declare some screen-free time (read: no phone or video games). Give them some options, one of them being a trip to the library, book store, or a "virtual" trip to search for reading materials.
The other options should be boring enough to your child that they choose reading.
At first, you might get some backlash for cutting off screen time and "making them read." But after a while, and with the right books, they'll come around.
If all else fails, a weekly trip to the ice cream shop isn't too much for a child to ask, right?