Thanksgiving Writing Prompts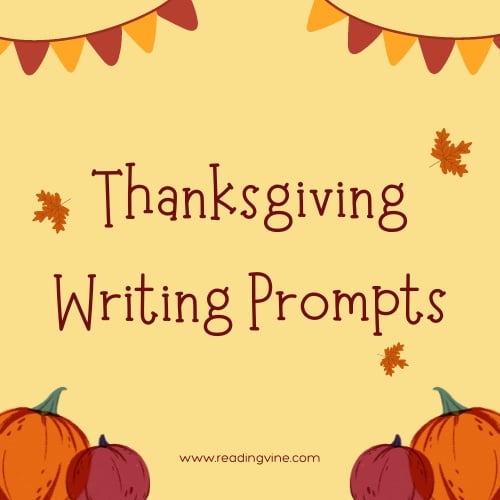 Thanksgiving brings much inspiration to writers of all ages and backgrounds. Use these creative writing category prompts, designed specifically for Thanksgiving, to craft stories of all kinds.
Responses to these prompts can vary in genre. Writers are encouraged to use rich detail and language, as well as all steps of the writing process (brainstorming, drafting, revising, and polishing), as best suited for their goals as a writer. Keep in mind that some prompts may demand contextualization depending on the learner's age and needs. Check out our lined paper printable PDFs too, with Thanksgiving themes!
Thanksgiving Writing Prompts
Category 1: Thanksgiving Leftovers
What happens to all that food after the turkey's gone cold and everyone is ready for a nap? Use this set of creative writing prompts to celebrate the potential of your favorite Turkey Day leftovers.
Grades K-2:
Create a comic strip about a dog who can't wait for its bowl to be filled with Thanksgiving day leftovers.
Draw a picture of your favorite leftover dish from Thanksgiving.
Write a thank you note to the person who made your favorite Thanksgiving dish.
Grades 3+:
Design and create an infographic about storing leftovers, food safety, and safe reheating practices.
Design a poster advertising creative ways to use Thanksgiving leftovers. Consider all parts of the meal– appetizers, dinner/ lunch, and dessert.
Write a persuasive essay about why Thanksgiving leftovers are better than the original Thanksgiving meal.
Category 2: Thanksgiving Desserts
Despite full stomachs and very few free spaces on Thanksgiving tables, people often make room for dessert, especially fall pies! Use this set of creative writing prompts to celebrate everyone's favorite part of the meal: dessert!
Grades K-2:
Create an infographic that showcases non-dairy and gluten free alternative desserts.
Draw a picture of your favorite Thanksgiving dessert.
Write a poem about the different types of pies that are served on Thanksgiving.
Grades 3+:
Write a recipe for a silly Thanksgiving dessert that is a good solution for small children who can be quite messy.
Design a pamphlet with recipes and dessert options from around the world. Try to find one from every continent.
Write a research report about the three most popular Thanksgiving desserts by region in the United States. What's most popular in certain locations?
Category 3: Thanksgiving Decorations
Many people enjoy decorating for the holiday season and during Thanksgiving, you'll find the colors of the season in your classroom, hallways, and home. Use this set of creative writing prompts to celebrate the season's charming decor.
Grades K-2:
Draw a picture of a funny Thanksgiving day costume.
Create a Thanksgiving-themed lawn sign to welcome guests to your home.
Design a Thanksgiving postcard that features a picture of an area of your town during the fall season.
Grades 3+:
Create a digital slideshow/ presentation about different ways to decorate a front door, classroom door, closet door, or locker for Thanksgiving.
Design an infographic about three fall scents/ fragrances that can make a person's home smell like Thanksgiving Day every day of the year.
Write a short story about a town that puts on its own Thanksgiving Day balloon celebration like the one held in New York City.
Category 4: Thanksgiving Games
Thanksgiving is a welcome time for us to connect with family and friends. Preparing for a day of gathering and feasting can be made more special with games! Use this set of creative Thanksgiving writing prompts to craft, remember, and imagine games for Turkey Day.
Grades K-2:
Create a turkey-themed memory game.
Draw a picture of your favorite outdoor game to play with your family on Thanksgiving day.
Write a short story about a group of small kids who play a game of catch with a large and seed-filled pumpkin.
Grade 3
Create a comic strip about a group of turkeys who challenge a group of humans to a game of football.
Create a Thanksgiving Day trivia game for your family. Include categories like: "Food" "Turkey" "Autumn" and "Pilgrims."
Design a new board game based on Thanksgiving traditions.
Category 5: Thanksgiving Football
Each year professional football players delay their own Thanksgiving feasts and grace televisions with a special game on Turkey Day. Use this set of creative writing prompts to celebrate football, feasts, and fun!
Grades K-2:
Create a t-shirt design with a family football game on Thanksgiving Day.
Draw a picture of a team of turkeys and a team of pumpkins playing football.
Write a short story about a group of competitive adults who play a game of flag football on Thanksgiving Day.
Grades 3 and up:
Create a presentation about athletic games, other than football, that families can play on Thanksgiving Day.
Design an infographic of "pros" and "cons" related to playing football on Thanksgiving Day after everyone has eaten.
Write a research paper about professional football viewership on Thanksgiving Day. How many people watch? Which teams traditionally play? Why?
Category 6: Thanksgiving Celebrations
It's time to gobble until you wobble! The American tradition of Thanksgiving often begins the season of holiday family gatherings. This set of creative writing prompts offers writers an opportunity to write imaginative stories, posters, letters, essays, and reports.
Grades K-2:
Write a story about a family's Thanksgiving celebration, including details about what they eat and do.
Draw a picture of your favorite Thanksgiving food and write about why you like it.
Write about something you're thankful for. Explain why you are grateful.
Grades 3+:
Write a personal essay about how your sense of gratitude has transformed over time with age or how you expect it will change over time.
Write a narrative about a character's Thanksgiving adventure, exploring themes of family, friendship, and appreciation.
Create a recipe that uses Thanksgiving meal leftovers and include a note about the importance of limiting food waste.