A Wrinkle in Time Reading Level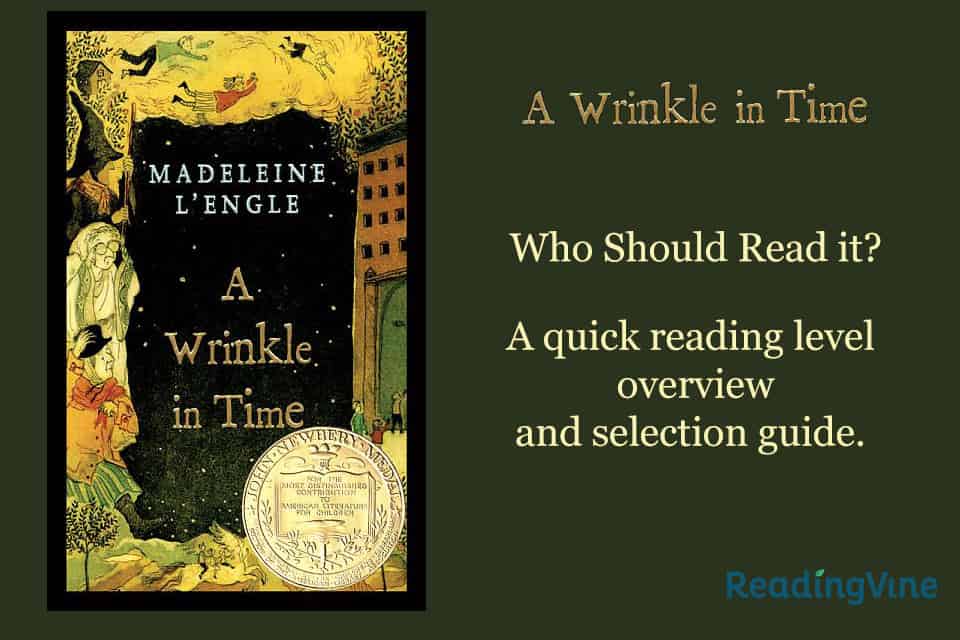 It was a dark and stormy night
Glorious, celestial creatures. Time travel. Evil overcome by love. What more could a kid ask for in a page-turning adventure? A Wrinkle in Time, by Madeleine L'Engle, was a Newberry Award winner when it was first published in 1963. It tells the story of Meg, an awkward, insecure, teenaged girl who receives a surprise visit from an other-worldly stranger in the middle of the night. The stranger tells her that her missing father has traveled through a "tesseract" – a wrinkle in time – and now needs Meg's help.
That mysterious visit sends Meg, her little brother, Charles Wallace, and their friend, Calvin, on a rollicking adventure through time and space in a desperate effort to save their father from the forces of evil. Will they succeed? Will evil win out over love? Only reading the book can answer these questions!
Who should read it?
Knowing a book is well written and has elements that are of interest to kids is only part of the equation. Knowing a book's reading level matters, too. Finding a book's assigned reading level helps parents and teachers choose the best reading material for each child's ability. If the reading level of a book is too far below your child's current ability, it will be boring or might even be perceived as a "baby book." On the other hand, if a book is too far above your child's reading level, she could be frustrated by it. The story itself will get lost as she struggles with overly complex sentences and words she doesn't understand
So, let's take a look at the A Wrinkle in Time reading level using the most common reading-level systems:
Lexile – Lexile reading levels measure a child's reading ability and assign that level a number between 5L and 2000L. Using the Lexile Framework for Reading Quick Book Search feature, we can determine that A Wrinkle in Time has a Lexile reading level rating of 740L.
Reading Recovery – Reading Recovery is an intervention program designed to help struggling readers in their early years. Using this leveling system, A Wrinkle in Time is assigned a level of 26.
Guided Reading Level – The Fountas-Pinnell Guided Reading Level works in conjunction with a reading program which gives students in small groups adult support while they learn new reading skills. The guided reading level of A Wrinkle in Time is R.
DRA – DRA scores assign reading material based on the scores a child receives on the Developmental Reading Assessment. Books are rated from A1 through 80. Using this leveling system, A Wrinkle in Time is given a 40.
ATOS – ATOS book levels are designed to match reading material to the achievement that is generally expected at a certain time in a child's school career. The ATOS level for A Wrinkle in Time is 4.7, or what a fourth grader should be able to read in the seventh month of that school year.
Beyond reading level
When you're trying to decide if a certain book is appropriate for your child, there is so much more to consider than its reading level. Not every book is right for every child, even when it's a perfect match for their reading level score. Here are some things to consider when trying to decide if A Wrinkle in Time is right for your child.
Interest – A Wrinkle in Time has approachable protagonists. Meg is homely and awkward and troubled by personal insecurities – something pre-teens can identify with. She's also kind and loving and determined to do what's right. There are also both male and female characters in the book, giving children of both genders role models. Meg is in high school, an age range which younger kids may not be interested in. Kids usually like to follow the adventures of children just a little bit older than themselves. The book does offer Meg's little brother, however, as a younger character for younger readers to root for. The book combines religious ideas with science fiction. While this might be immensely appealing to some kids, it might not interest others at all. You know your own child. Keep her interests in mind when picking books for her to read.
Thematic elements – While many of the reading level systems in use place this book at around the fourth grade level, it encompasses some mind-bending – and time-bending – themes that may make it more appropriate for a slightly older audience. A quick search of the Internet will show you lesson plans and discussion formats designed for the fifth- and sixth-grade level. This is because Madeleine L'Engle incorporated big themes into her story, like good versus evil, and also added a touch of real science to her science fiction. In the past, her books were sometimes criticized for both of these reasons. Some people didn't like the mix of science and religion; others simply thought the book was too complex for young readers.
Movie tie-in – You probably already know that A Wrinkle in Time was recently made into a movie starring Storm Reid, Oprah Winfrey and Reese Witherspoon. If your child loved the movie, what a great time to introduce the book! "You can't judge a book," you can remind her, "by its movie". After your child has finished the book, you can ask her which she liked best, and whether or not she thinks the movie portrayed the book accurately. Keep in mind that book reading levels and movie ratings don't always mesh seamlessly. The movie is rated PG. Fine for most kids, but not all. CommonSenseMedia rates it as appropriate for kids ten and older.
Whether your child takes on this icon read because it matches her reading level, or because it matches her interests, she's sure to come away from it with some fascinating ideas about science, religion and more.