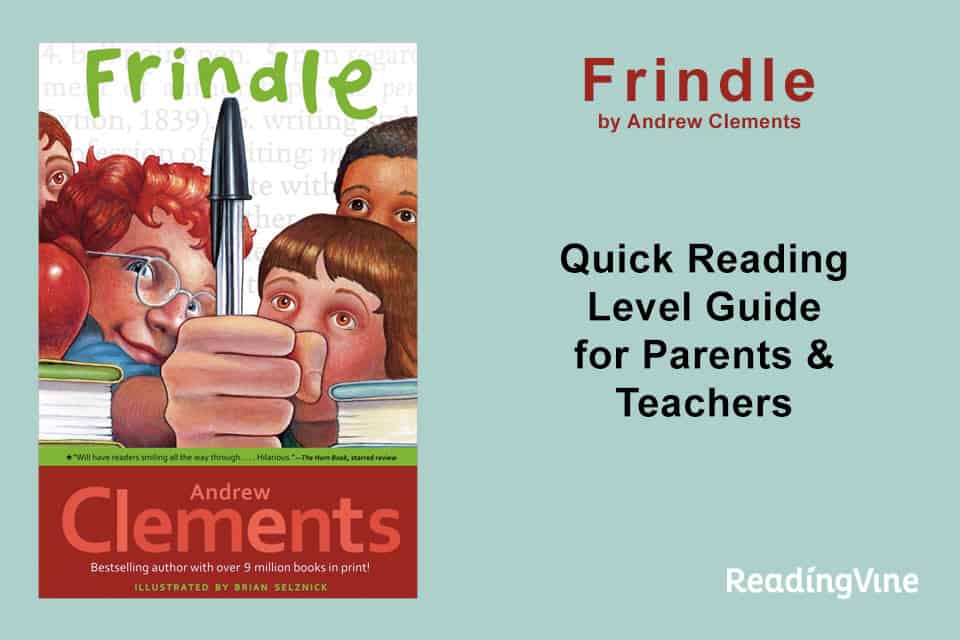 Words, words, everywhere
Frindle by Andrew Clements tells the story of fifth grader, Nick Allen, a classroom cutup, facing one of the greatest challenges of his young life: Mrs. Granger, the scariest teacher at Lincoln Elementary school. Mrs. Granger is known for being tough, but Nick thinks he's up to the challenge. After all, he has a plan. He's going to use Mrs. Granger's love of the dictionary against her. Assigned to research where words come from, Nick decides he's going to invent a whole new word – "frindle" – and spread its use throughout the school. That ought to show ol' Mrs. Granger! But does it?
Maybe not. Nick becomes a bit of a celebrity for inventing a new word for the lowly pen, but Mrs. Granger may ultimately win this epic "war of words." Nick may be cunning, but Mrs. Granger has a few tricks up her sleeve, too. And she might not be the "enemy" Nick thinks she is.
What is Frindle's reading level?
Interesting, relatable characters and an engaging plotline are certainly important in a child's book. It grabs his attention, after all, and keeps him reading. But, a book that's too hard to read, or a storyline that's designed for younger children can be a no starter. So, let's look at Frindle's reading level. Then you can determine whether it's a good fit for your young bibliophile.
Different schools use different leveling systems. Here are Frindle's ratings using some of the most common.
Lexile – The Lexile Framework for reading assigns books a number between 5L and 2000L, and then, through testing, matches a child's reading level to those numbers. The Lexile rating for Frindle is 830L
Guided Reading Level – Guided Reading presents children with reading material that's a bit challenging for them. Working in small groups, students read with a teacher who guides them as they learn new reading strategies. The guided reading level for Frindle is R.
Reading Recovery – An intervention program for struggling readers, Reading Recovery levels books using a rating of A, B or a number from one through 34. Findle's Reading Recovery rating? 26.
ATOS – ATOS stands for Advantage TASA Open Standard and levels books by comparing them to what the average child is expected to be able to read at any given time during their school career. Using this system, Frindle earns a score of 5.4. This means that most kids could read this book independently by the time they're in the fourth month of the fifth grade.
DRA – This reading leveling system matches children with reading material based on the scores they earn on the Developmental Reading Assessment test. It then numbers books – and kids! – from A1 through 80. The DRA score of Frindle is 40.
Beyond reading level
Their peers matter – The older kids get, the more they turn to their peers for support and focus. What better way to use that evolving need to have their own social network than to enlist other kids in picking out appropriate reading material? Described at the "Good Reads" for kids, Biblionasium has kid-centric book reviews, by kids and for kids. It lets kids rate, recommend and review their favorite books, and see the ratings, recommendations and reviews of other kids, as well. You or your child can search reviews by title, author, category or Lexile reading level. It's easy to make your child a free account. Then he can sit back and see what other kids his age are saying about Frindle.
A male protagonist – In this day and age of "girl power," it's important to remember that little boys matter, too. They have a right to grow up feeling strong, smart and secure. One way to accomplish this is to let them read about positive role models of their own gender and in their own age range. While Nick Allen makes some questionable choices at the start of the book, he is smart and witty and willing to learn. These traits make him – you guessed it! – a great role model.
Other reviews – One way to assess whether or not a book will interest your child, how well it is written and if it's age appropriate, is to check reviews. CommonSenseMedia is one place to look. A non-profit website that reviews all kinds of kid's media, including movies, games, apps, websites, television shows and even music, the site also rates books like Frindle. Their take? Frindle earns their highest rating – five stars – and is appropriate for kids nine and up. Need more intel? Frindle's page on CommonSenseMedia gives a summary of the book, offers ideas for "conversation starters" once your child is done reading it, and also includes reviews by other parents and kids.
Author, author! – Increased practice time and the love of reading are two reading goals most teachers and parents agree on. Once your child is hooked on Frindle, you can use that passion to introduce other books by the same author. Andrew Clements has penned scores of other great books, many of which fall into the same reading level – and interest level – as Frindle. If your child loved this one, encourage him to check out Clements' other works.
Hero worship – It's a known fact that kids like to read about other kids who are a little older than themselves. It goes back to that basic urge to be a "big kid." Frindle is around a fifth-grade reading level and starts out about a fifth grader, but, this is a fairly long chapter book and Nick grows into young adulthood over the course of the story, giving young readers a "big kid" to identify with and root for.