The Wonderful Wizard of Oz Reading Level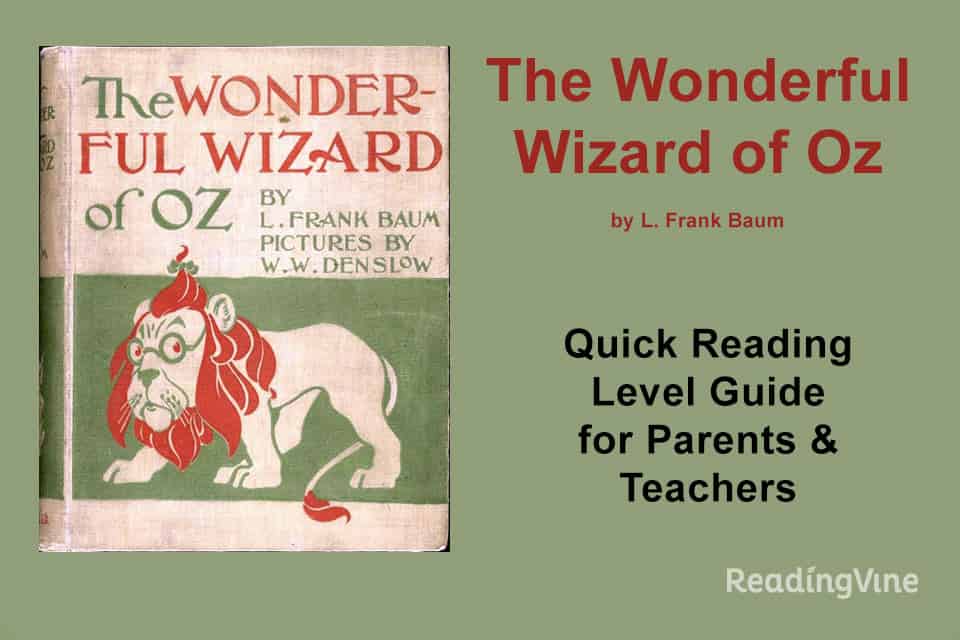 We're off to see the Wizard!
Dorothy Gale. The kindly Scarecrow. The Tin Woodman. Toto, too! We all know them, don't we? Maybe. Maybe not. If the only version of The Wonderful Wizard of Oz you're familiar with is the 1939 Hollywood movie, then the answer is, "Not quite." The book and the movie are different in many ways, and yet endearingly the same.
The classic book, by L. Frank Baum, is a read no child should miss. The book follows little Dorothy Gale as she's swept away from her Kansas home into a magical realm called Oz. Dorothy and her little dog, Toto, encounter magic and mayhem as they make both friends and enemies during her determined quest to find her way back home. Along the way she learns lessons about self-reliance, kindness, friendship and the value of resolve. And Frank Baum serves up all of these great lessons with a healthy dose of wonder, as well as some great tongue-in-cheek humor.
What is the reading range for The Wizard of Oz?
If you think The Wonderful Wizard of Oz might tantalize your child's reading taste buds, the next step is to determine if the book's reading level matches her skills. There are many great, online book-search wizards that can give you that information, but we've done the footwork for you. Here are the book's reading levels on the leveling systems commonly used by most schools.
Fountas-Pinnell Guided Reading Level – The Guided Reading program has children read in small groups with an adult facilitator who helps them build a tool kit of reading skills while working through a challenging text. The Wonderful Wizard of Oz rates a U using this system.
DRA – The DRA score of a book is used to match a child with appropriate reading material based on her score on the Developmental Reading Assessment test, using numbers from A1 through 80. The Wonderful Wizard of Oz has a DRA score of 44.
ATOS – ATOS scores match reading material to the reading level that is expected of the average child at different grades and months of the school year. The Wonderful Wizard of Oz is rated 7.0. In other words, a child should be able to read it independently during the first month of the seventh grade.
Lexile Framework for Reading – Lexile levels rate books using a numbering system from 5L through 2000L. Using this system, The Wonderful Wizard of Oz rates a score of 970L.
Reading Recovery – This intervention program matches struggling readers with appropriate reading material. For The Wonderful Wizard of Oz, that level is 30.
A few other things to consider
Every book is so much more than its reading level. If you're wondering if The Wonderful Wizard of Oz is right for your child, here are a few things to keep in mind.
Cultural literacy – American is a wide country with millions of citizens, yet we share a basic culture, and The Wonderful Wizard of Oz is part of it. A recent episode of the TV series Madam Secretary even referenced it when Secretary McCord said in dismay after a failed political move, "It's like I went and got the witch's broom and the wizard still won't send me home." Think for just a moment and you'll probably be able to come up with half a dozen Oz references of your own. Flying monkeys. Ruby slippers. I'm off to see the wizard! Okay, the slippers in the book were actually silver, but you get the idea. If your child reads The Wonderful Wizard of Oz, she'll have the inside track on these types of references, and she'll always know just what they mean.
Some surprising violence – Like Grimm's Fairy Tales, children's literature from earlier eras is often a little, well, grim. The Wonderful Wizard of Oz has some violent scenes that aren't in the movie, scenes that could be disturbing to younger readers. Dorothy is "enslaved" by the witch, for example. Magical creatures are beaten when they fail to capture her. The Tin Woodman tells the tale of his own axe lopping off his arms and legs. Later in the story, he uses that same axe to kill some of their pursuers.
Interest level vs reading level – The interest level of The Wonderful Wizard of Oz is generally around the third of fourth grade, while its reading level is much higher. This means an older child might find it too simplistic, while a younger child would struggle with the language and vocabulary. Though, the difference in levels could also be a good thing. A younger child who really loves the stories might be motivated to tackle challenging reading material, and that's a great way to see her reading skills improve.
Pandora's box – A long book series is a great way to hook kids on reading because the end of each book naturally leads to the next one. The prolific Mr. Baum wrote 14 more books in the Oz series. That's a lot of reading! Think about it. Once your child burns through the first, there will be 13 more tales of Dorothy and her adventures to pull her deeper into a reading adventure of her own.
Beware the abridgment – While abridgments may make The Wonderful Wizard of Oz more appealing to a struggling reader, they often have lower reading levels and lower interest levels, as well. Accelerated Reader's Bookfinder rates Deborah Hautzig's version, for example, with an ATOS level of 3.2 and an interest level of LG, meaning the lower grades of K – 3. Compare that with the unabridged version's ATOs score of 7 and interest level of MG, or middle grades 4 – 8. You don't want to accidentally pick up one, when you're expecting the other.
The Wonderful Wizard of Oz is not to be missed. It's fun. It's funny. And good triumphs over evil in the end. What more could you want in a children's book?
Scroll To Top