Best Christmas Movies for Kids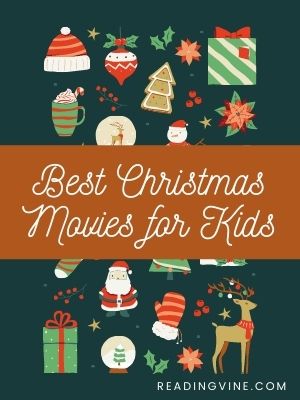 Looking for a great Christmas movie? Check out these best Christmas Movies for Kids.
Home Alone – As the movie opens, Kevin is tired of being surrounded by his big family. They are all preparing for a family vacation to Paris and he feels he is being ignored. That night, he wishes for some time alone. When he wakes up in the morning, he is the only one in the house! His parents accidentally left him behind in their rush to the airport. Kevin is thrilled to have the house to himself. Everything is perfect for Kevin as he enjoys a little alone time away from his big family. That is, until two burglars discover he is home alone and decide to rob the house. These two clumsy burglars are no match for Kevin and he spoils their devious plans in a variety of hilarious ways.
Elf – This is one of our favorites on the list of best Christmas movies for kids! Buddy is a human who thinks his is an elf because he was raised by elves in the North Pole. When he finds out he is really a human, he decides to go to New York City to find his father (who happens to be on Santa's Naughty List). The result is hilarious. As Buddy navigates his way through a very strange New York City he not only finds his father, but also finds love. Along the way, Buddy eats lots of candy and finds joy in the simplest of things.
The Christmas Chronicles – When a brother and sister decide to stay up all night on Christmas Eve and see if they can catch Santa delivering gifts, their night and relationship takes a drastic turn. They not only meet Santa, but they also must try to help him save Christmas after he loses his sleigh and reindeer. It is a night of wild adventure, including Santa being thrown in jail where he holds a magical rock concert. Ultimately, the siblings learn more about each other than they ever imagined.
A Christmas Story – When asked what he wants for Christmas, Ralphie's answer is always the same. He wants a Red Ryder BB gun. Unfortunately, everyone tells him the same thing – "You'll shoot your eye out." As Christmas approaches, Ralphie continues to dream of a Red Ryder BB gun and tries to avoid the town bully. Along the way, Ralphie gets his mouth washed out with soap, a kid gets his tongue stuck on an icy light pole, Ralphie's father wins a major award, and the neighbor's dogs eat the Christmas turkey. This is a wonderful story, and family, that you will never forget.
The Polar Express – This beautifully animated movie is the story of one boy's trip to the North Pole. When he questions the existence of Santa, a mysterious train whisks him away. Along the way he meets a variety of people and learns that the magic of Christmas is available to all those who believe.
Charlie Brown's Christmas – This is a movie that your parents (and maybe even your grandparents) grew up watching every Christmas. It is the story of Charlie Brown as he wonders about the true meaning of Christmas with his friends and his dog Snoopy. Along the way, he finds a sad little pine tree and decides to make it a Christmas tree. When his friend Linus tells Charlie Brown the true meaning of Christmas, both Charlie Brown and the sad little tree find hope and purpose. This is a classic must-watch Christmas movie.
Rudolph the Red Nosed Reindeer – You have probably heard the song Rudolph the Red Nosed Reindeer and probably know it by heart. This is the story of the reindeer who was born with a red nose. Like the song tells us, Rudolph is having a tough time and all of the other reindeer laugh and call him names. They wont even let him play along in the reindeer games. Dejected, Rudolph wanders off into the snowy woods where he is confronted by the frightening Abominable Snowman. Eventually, he ends up at the Land of Misfit Toys. After some adventure, Rudolph finds his way back home, saves Christmas for Santa (thanks to his nose) and realizes that his nose makes him the most famous reindeer of all.
Frosty the Snowman – This short, animated Christmas classic will have you singing along with Frosty. The story of a magical snowman who comes to life, this much-loved Christmas story is a favorite of most kids, especially younger viewers. The song will be stuck in your head for days.
Mickey's Christmas Carol – Based on the Dickens classic, A Christmas Carol, this animated feature stars Mickey Mouse and Donald Duck in the starring roles. Like most Disney movies, this film is sure to delight both parents and children so you might want to ask Mom and Dad to watch along. Mickey's Christmas Carol is great for all ages, which is why we've included it as one of the best Christmas movies for kids!
The Grinch Who Stole Christmas – This movie starring Jim Carrey as the grumpy Grinch has become another Christmas classic. The story follows the Grinch as he attempts to steal Christmas from the always happy people who live in the small town of Whoville. Despite his best attempts to steal all of the decorations and gifts, ultimately the Grinch learns that Christmas is not about decorations and gifts at all.
——————-
Writer: Cheryl Shireman. Cheryl holds a Bachelors of Creative Writing & American Literature and a Masters of Christian Education. She also writes for the gardening website The Garden Shed, and for her home decor website Coastal Cheryl. Her books can be found on Amazon.