InspirED: Mindfulness Corner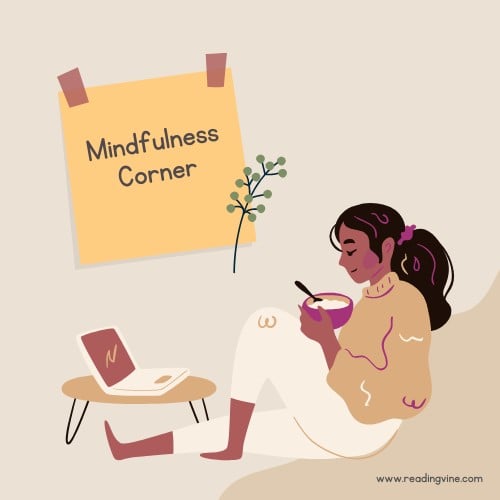 Forget about the "Sunday Scaries," the "September Scaries," as any school professional knows, can plague both staff and students alike. While a new school year can be energizing and refreshing, it can also be both draining and hectic. As an educator, it's important to find ways to turn your classroom into a sanctuary for both you and your students. You deserve this and so do they! After all, there's no doubt that despite the schedules and routines that guide the school year, we, as people, come to that space with a variety of emotions and energy levels because at the end of the day, we are people before we are anything else.
An important aspect of September stems from creating a positive and nurturing environment for teachers and students. One effective way to establish a sense of calm and recentering within the classroom is to dedicate a space in the room as a mindfulness corner. Be it mid-lesson or during a prep period, this warm and welcoming space can do wonders for a classroom's learners and function– and especially for that very important person at the helm of it all: the teacher.
August is a wonderful time to brainstorm how this can be implemented in a classroom or office space. Moreover, if you're a school leader, consider how your building can provide this for your educators. Where is there a place of respite? How can a space be warmed and converted to offer refuge? If you're not sure, ask your teachers– they are filled with great ideas!
What is a mindfulness corner?
A mindfulness corner provides a designated area that facilitates calm and refocusing. This space offers the opportunity to cultivate mindfulness and self-awareness. The space can be made physically cozy with the addition of certain furniture or accents. Soft lighting, such as string lights, can also contribute to a peaceful vibe. Depending on what grade level you teach, consider what might work best for that age group. Better yet, ask yourself: "What would I want there?"
What resources can you include?
Consider incorporating journals or reflection prompts. Attach these to clipboards or keep extra paper in the space for quick, easy-to-access writing or drawing exercises. Print mandalas and other calming coloring pages. These are great for learners of all ages and teachers who need to decompress. Round up a bin of sensory items, such as stress balls, squishy objects, or textured items to promote engagement and relaxation. These items can help children and adults ground themselves and achieve the calm they may be craving. These tools are also especially useful for students who may arrive at school with distracted thoughts or anxiety. After all, we all have our days! And of course, don't exclude yourself– will you enjoy that mindfulness corner a bit more with a warm tea in hand? Stash a few bags in your desk so you have them ready.
The benefits of a mindfulness corner can be made more personalized with the keen insight of you: the school professional. Include whichever tools or implements you think your students may benefit from most. Having this resource in place at the start of the year also ensures that it's there when you and your students need it. It also communicates a genuine concern and consideration for health and wellness from the very first day of school which is bound to resonate with people who enter your space.
Resource:
https://www.educationworld.com/teachers/5-tips-create-mindfulness-corner-your-classroom