InspirED: The Gratitude Tree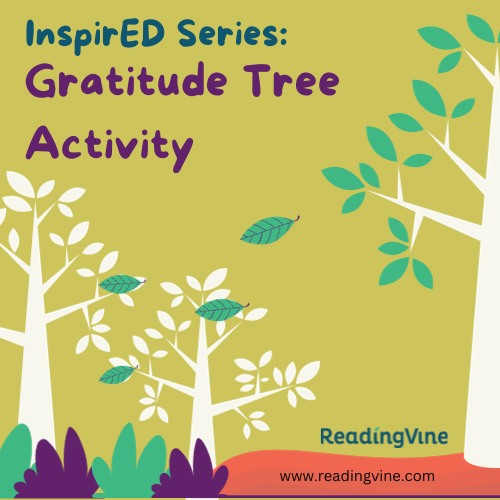 September is a great time to help your students fall absolutely in love with school. The beginning weeks can be chaotic and frenzied, but the new school year also holds all the promises of a fresh beginning, and importantly, a chance to reflect on what we've already accomplished as a school community. A gratitude tree is a wonderful strategy to help you learn about your students and figure out what has helped them connect with school in the past. This can help you, as the teacher or other school-based professional, hone in on strategies and topics that will make your student buy in and engage in the curriculum you craft, revise, and design with them in mind.

Creating a classroom "Gratitude Tree" is easy to create and requires very few supplies. It can also be adapted to fuel students' understanding of sustainable materials or be a partly outdoor experience.

For a sustainable "Gratitude Tree," really dig through that supply cabinet and use brown or tan paper to assemble the trunk of the tree. You can use colorful paper or cardstock to cut out colorful autumn leaves or even make use of old magazines, newspapers, or paper supplies. It's true that at times, we can be overwhelmed by leftover components from projects and years' past. However, sifting through what you have is a great lesson for students in both sustainability and creativity! You can also involve students more directly by having them pan through supply areas for even the smallest components that can be used to construct each part of the tree. This is a great way to facilitate ownership.

For an outdoor version, have students collect actual leaves and use markers to write simple notes of gratitude.

Use the following prompts to anchor students on positive memories or associations with school:
What is your favorite memory? This could be from any time in your life!
The best part of my day is when…
My favorite part about school is _______ because ____________________.
What is something that makes you happy?
What makes you feel proud of yourself?
I feel loved when….
My favorite thing to do in class is…..
What is something that made you smile today?
What is something that always makes you laugh? Describe how hard it makes you laugh!
Who is someone that makes you feel happy?
What is something you love about your school? It could be your friends, art class, the playground, your teacher… anything you love!
What is something you love about yourself? Pick something that makes you proud to be you! Maybe it's something that nobody knows yet.
What is your favorite part about your week?
What is something you look forward to when you wake up in the morning?
I am grateful for today because _______________.

Don't forget! Where you display this tree is also important. Is it something you want to honor within your classroom or should it be a team or grade-level initiative and displayed in a hallway? Remember, this is a great way to proudly show collective thanks for the many supports a school can provide for a diverse array of students.

Gratitude, when practiced each day, can foster positivity, enhance students' emotional well-being, and build a sense of community. And, of course, don't forget to add your own leaves. Modeling is an important part of helping students understand gratitude.

Resource: https://www.edutopia.org/article/teaching-and-modeling-gratitude-elementary-school/