A Winning Smile
Reading Comprehension Activity
It's hard starting a new school. It's even harder when you are sporting a mouth full of shiny braces. In this passage, Gina is apprehensive about her first day in a new school. She discovers, however, that the new school may work out after all.
Topic(s): Realistic Fiction. Skill(s): Summary, Character Traits, Compare & Contrast, Figurative Language. Genre(s): Prose
Click for the passage & questions on one printable PDF.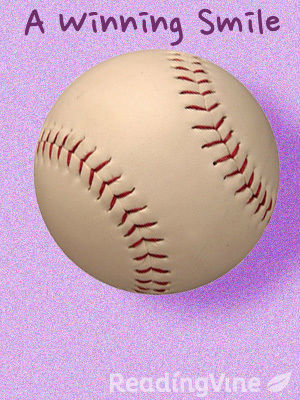 Gina walked slowly toward the school building. Her stomach fluttered with butterflies. Today she was starting school in a new town. Hopefully, she would make some new friends, too. She turned around and waved to her parents, and they gave her a thumbs up; if they only knew how nervous she was.
At her old school, Gina had many friends whom she had known since kindergarten. When Gina got braces, it was no big deal. Her friends never made fun of her. But that was the past. The future was here-inside the new school.
The students in Gina's class were friendly, but Gina didn't smile much. She didn't want anyone to see her braces. Finally, it was time for gym class. Luckily for Gina, they were playing baseball-her favorite sport.
"Gina," the coach announced, "play shortstop today, okay?"
"Sure thing!" Gina said as she put on a glove and trotted out to her place between second and third base. She scanned the field and glanced over to second base, where a tall boy stood.
Suddenly, the batter slugged the ball in her direction. The ball bounced several times before Gina caught it. As the runner headed toward second base, Gina threw the ball to the tall boy. The runner was out!
"Good throw!" the tall boy said with a smile. His smile was bright, metallic, and shiny, just like hers. She smiled back, allowing her braces to show. They both laughed, and Gina knew her future was going to be just fine.
Get the passage & questions on one printable PDF.