Dreaming Inside the Box: The Art of Joseph Cornell
Reading Comprehension Activity
Students will read a passage about Joseph Cornell and his unique art, creating shadow boxes. Students will answer questions about character, central idea ideas, making inferences, and drawing conclusions.
Topic(s): History. Skill(s): Summary, Character Traits, Main / Central Idea. Genre(s): Informational
Click for the passage & questions on one printable PDF.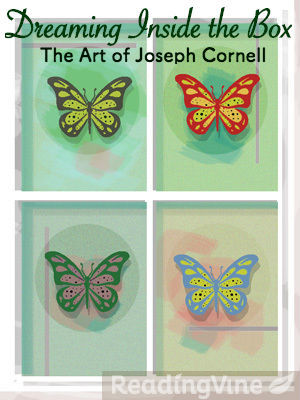 When you think of the vast amount and variety of art created throughout history, you might also think that the people who created those works of art must have spent years as students in art school or as apprentices to other artists. You may even see them as members of art collectives, traveling the world to inspire their creations. But there is one artist who shatters all of those preconceived notions about what it takes to create art-Joseph Cornell.
Born in Nyack, New York, in 1903, Joseph Cornell was the son of a textile designer and salesman, a job the younger Joseph would also end up taking on as an adult. Joseph's brother, Robert, was born with cerebral palsy seven years later, and just a year after that, Joseph's father died of leukemia. The family's financial circumstances were fairly grim after the death of Joseph's father, so his mother moved the family to Queens, part of New York City. After living in a number of different places, the family finally settled in a section of Queens called Flushing.
From the day Robert was born, Joseph took responsibility for his happiness and well-being. After spending three rather unsuccessful years at Phillips Academy in Andover, Massachusetts, Joseph came back home to his mother and brother for good.
Throughout his late teens and early adult years, Joseph held a number of grueling sales jobs to help support the family. As a sort of compensation for the work he hated, he spent his free time wandering around Manhattan. Everywhere he went, he collected interesting objects he found in thrift shops, variety stores, and even on the streets.
Joseph loved the idea of travel and extensively researched the cultures of many countries, especially France. However, his shyness and discomfort around people for any length of time as well as his sense of responsibility for his brother meant that he never actually left New York.
In his late twenties, Joseph began to put together the objects he had collected into shadow boxes. Each of these boxes represented some aspect of his dreams of freedom, of social connection, and of love. He used metal hoops and bars, string, marbles, wine glasses, feathers, shells, postcards, programs from shows, paper doll parts, and even postage stamps. Armed with a little glue and a pair of scissors, Joseph considered all of these objects fair game for his boxed collages.
Joseph also idolized a number of famous dancers and opera stars who performed in the city. He put together files of photos and scraps of information about them. Many of these bits and pieces ended up in boxes he created as tributes to his favorite stars.
While Joseph was certainly indebted to the influence of artists such as Max Ernst, Marcel Duchamp, and Kurt Schwitters, whose works he had seen in galleries and studied, his own skills as an artist were entirely self-taught. He began to display his boxes in local galleries, and word soon spread about the magical creations of Joseph Cornell. His collage technique also extended to filmmaking. He took existing films and chopped them up, reassembling pieces of them to create entirely new films. In Joseph's boxes, little objects that might seem insignificant all by themselves took on a whole new meaning in combination with pieces of maps, diagrams of constellations, and scraps of advertisements.
Throughout Joseph's career as an artist, he had to supplement his income with a number of jobs he hated. However, he was successful enough that artists from all over the world heard about his work and came to meet him. He became friends with a great many well-known artists and writers, and his work began to sell for high prices later in his career. Eventually, he was able to focus solely on his artwork, creating a workshop in his mother's basement. He hired a constantly shifting cast of young assistants to help him organize and catalogue all of the objects he collected.
Joseph fascinated the luminaries who met him, which led to exhibiting collections of his work in prominent museums in New York City, such as the Guggenheim and the Museum of Modern Art. Joseph became friends with a great many people and forged personal connections from around the globe, but his fears kept him disengaged from the world on a regular basis. He was never quite able to overcome his shyness.
His wistful remark to one of his sisters near the end of his life is telling: "I wish I hadn't been so reserved." Instead of physically connecting with the world, Joseph Cornell poured all of his visions and dreams into his boxes. He created irresistible visual stories that continue to inspire artists and writers to this day.
Get the passage & questions on one printable PDF.