Tender Troubles
Reading Comprehension Activity
Author: Louisa May Alcott
With so many sisters in the March family, it was inevitable that there would be a romantic triangle. In this passage, Jo speaks with Marmee about going to New York to teach. She knows Beth has fallen in love with Laurie, and Laurie is having romantic thoughts about Jo. Students will read the passage and answer questions on the vocabulary, the theme, and the details.
Topic(s): Realistic Fiction. Skill(s): Theme, Summary, Context Clues. Genre(s): Prose
Click for the passage & questions on one printable PDF.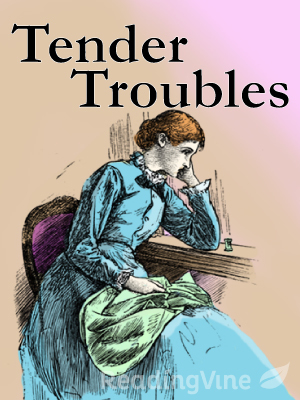 In Little Women, the four March sisters grow up during the middle of the 1800s. As this passage opens, the eldest sister, Meg, is married with twin babies. The youngest sister, Amy, is in Europe with her aunt and uncle. That leaves Jo and Beth at home. Mrs. March, or Marmee, is worried about Beth who has seemed a little unhappy lately. She has spoken to Jo, who finds out that Beth has a crush on Laurie, the boy who lives next door. Unfortunately, Jo also finds out that Laurie has romantic feelings for Jo.
———————————————
But Jo had made up her mind, and, after pondering over a project for some days, she confided it to her mother.
"You asked me the other day what my wishes were. I'll tell you one of them, Marmee," she began, as they sat alone together. "I want to go away somewhere this winter for a change."
"Why, Jo?" and her mother looked up quickly, as if the words suggested a double meaning.
With her eyes on her work, Jo answered soberly, "I want something new; I feel restless, and anxious to be seeing, doing, and learning more than I am. I brood too much over my own small affairs, and need stirring up, so, as I can be spared this winter, I'd like to hop a little way, and try my wings."
"Where will you hop?"
"To New York. I had a bright idea yesterday, and this is it. You know Mrs. Kirke wrote to you for some respectable young person to teach her children and sew. It's rather hard to find just the thing, but I think I should suit if I tried."
"My dear, go out to service in that great boarding-house!" and Mrs. March looked surprised, but not displeased.
"It's not exactly going out to service; for Mrs. Kirke is your friend,-the kindest soul that ever lived,-and would make things pleasant for me, I know. Her family is separate from the rest, and no one knows me there. Don't care if they do; it's honest work, and I'm not ashamed of it."
"Nor I; but your writing?"
"All the better for the change. I shall see and hear new things, get new ideas, and, even if I haven't much time there, I shall bring home quantities of material for my rubbish."
"I have no doubt of it; but are these your only reasons for this sudden fancy?"
"No, mother."
"May I know the others?"
Jo looked up and Jo looked down, then said slowly, with sudden color in her cheeks, "It may be vain and wrong to say it, but-I'm afraid-Laurie is getting too fond of me."
"Then you don't care for him in the way it is evident he begins to care for you?" and Mrs. March looked anxious as she put the question.
"Mercy, no! I love the dear boy, as I always have, and am immensely proud of him; but as for anything more, it's out of the question."
"I'm glad of that, Jo."
"Why, please?"
"Because, dear, I don't think you suited to one another. As friends you are very happy, and your frequent quarrels soon blow over; but I fear you would both rebel if you were mated for life. You are too much alike and too fond of freedom, not to mention hot tempers and strong wills, to get on happily together, in a relation which needs infinite patience and forbearance, as well as love."
"That's just the feeling I had, though I couldn't express it. I'm glad you think he is only beginning to care for me. It would trouble me sadly to make him unhappy; for I couldn't fall in love with the dear old fellow merely out of gratitude, could I?"
"You are sure of his feeling for you?"
The color deepened in Jo's cheeks, as she answered, with the look of mingled pleasure, pride, and pain which young girls wear when speaking of first lovers,-
"I'm afraid it is so, mother; he hasn't said anything, but he looks a great deal. I think I had better go away before it comes to anything."
"I agree with you, and if it can be managed you shall go."
Get the passage & questions on one printable PDF.