My Boy
Reading Comprehension Activity
What's it like to be a dog? Scooter tells the story of a typical day in the life of being the family pet. Students will read the passage and answer follow-up questions about vocabulary and other story elements.
Topic(s): Humor. Skill(s): Character Traits, Fact & Opinion, Context Clues. Genre(s): Prose
Click for the passage & questions on one printable PDF.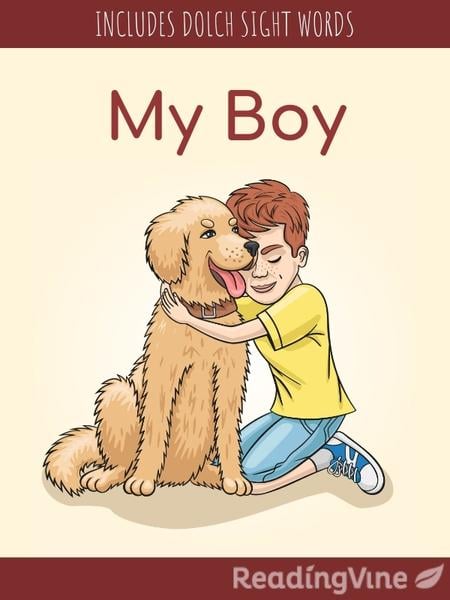 My name is Scooter. I have blond hair and brown eyes. I'm eight years old.
I'm also a dog.
I walk on four feet and wear a blue collar. I have a boy who takes care of me. His name is Joe.
Most days, Joe wakes up early and goes to school. These are boring days. I spend these days napping on Joe's bed and waiting for him to come home. He fills my food bowl with supper after school. Then I eat and wait for him to read a book and write on papers. I can't read, or I would help him. I like when he works fast, because then we can play.
Joe doesn't always go to school, though. Some days he stays home. When he sleeps late, I lick his face to wake him up. These are the days we can play all day!
Usually we run around in the back yard. I like that because I don't have to wear a leash. Some days, Joe brings out the leash and we go for a walk around town. When we take walks, Joe has to hold the leash so I can't run away. I would never run away because I am a good dog, but Joe's mom says it's the law.
I like walks to the park best, because there are other dogs there. We like bark a friendly hello while our people friends talk to each other.
Sometimes Joe walks to the store. When he goes inside, he wraps the leash around a pole so I can't run away. I don't like it, but I sit still and wait for him to come back. Joe always comes back.
When he does, he has brown bag full of people things. Most things don't interest me, but once in a while Joe will buy me a dog thing. Sometimes the dog thing is a treat that I can eat. Other times it is a new toy. I like the kind that squeak when I bite them. I never bite people because I am a good dog. But it's fun to bit the squeaky toy.
When Joe goes to bed, I go with him. Sometimes I will bring my toy to chew while he brushes his teeth. Before he turns out the light, he pats my head. "Good dog, Scooter," he says. I lick his hand to say goodnight.
Get the passage & questions on one printable PDF.