Shared Reading: Tips and Strategies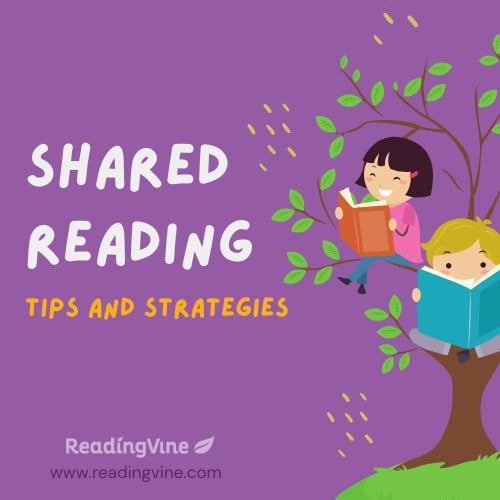 The image of a dedicated educator reading to their students who are listening cozily on a colorful rug may come to mind when you think of shared reading. A critical and joyous part of early literacy development involves fostering a child's love for reading and language. Shared reading not only enhances children's language skills, but also fosters a deep connection with books and sets the foundation for a lifelong love of reading. It anchors the child's learning through observing and interacting with the reader and ultimately propels their reading readiness.
Shared reading is a dynamic and interactive experience where an experienced reader engages in reading a text with a learner. It involves reading aloud, discussing the story, and exploring the illustrations together. There are many benefits to shared reading. Learners can naturally absorb the rhythm and tempo of language, understand the structure of stories (the beginning, middle, and end), and grasp the order of events. Moreover, shared reading exposes children to a diverse range of vocabulary as the experienced reader may choose a slightly more challenging text than what the learner can read independently. This offers an opportunity for rigor.
Book Choice for Shared Reading
It's important to select books that are age-appropriate and engaging. Consider the size of the text, the presence of vibrant illustrations or minimal illustrations depending on a learner's needs, relatable characters, and captivating stories. Of course, ponder the learner's interests and incorporate a variety of genres.
Pause and Spark Engagement
When reading, it's important for the experienced reader to use expressive voices, gestures, and facial expressions to animate the story and spur active engagement. The experienced reader may ask:
"What do you think will happen next?"
"What do you think about that?"
"Can you point to the character?"
"Have you ever heard of that?"
"How is this character feeling?"
"How would you describe this place?"
As always, it's important to provide wait time and ask for multiple answers. This not only reinforces comprehension, but also serves to boost confidence in their storytelling abilities.
Finally, pacing is also important. With good reading instruction, it's important not to rush. Affording a learner ample time to engage in the story by asking and answering questions is integral.
Resources
https://www.readwritethink.org/professional-development/strategy-guides/shared-reading-opportunities-direct