6 Great Short Stories for Kids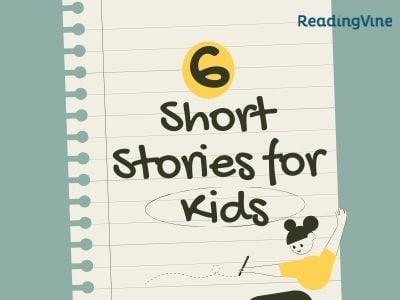 Short stories are a great way to get your child excited about reading! They aren't so long that your child loses interest but they still offer all the fun and adventure of much longer books. Whether your kid is constantly looking for adventure, loves to laugh or would rather just cuddle up on the couch with all their stuffed animals— there is a perfect short story for them! Here are 6 short stories for elementary school kids that we sorted by personality and interest type:
The Class Clown
If your kiddo loves to laugh and play tricks, they are going to be a huge fan of Roald Dahl's "The Twits". The Twits are a couple that play cruel pranks on each other. Their pet monkey, Muggle-Wump, decides he and his family must escape— and play a trick back on the Twits before they go! This funny story and all its shenanigans make it a hilarious read for kids of all ages. If your kids like this book, Roald Dahl has tons of other fun stories for kids like "Matilda", "Fantastic Mr. Fox", "The BFG" and "Charlie and the Chocolate Factory"!
The High Energy Kiddo
Reading doesn't have to be something you do quietly sitting down— how about a book with a game involved?! "Miss Mary Mack" by Mary Ann Hoberman is a children's book based on the hand clap. Your child can read the book and then learn the hand clap with this video! The book itself is written for younger elementary school ages but the hand clap is fun for students of any elementary school age!
The Thrill Seeker
"Rikki Tikki Tavi" is a short story out of Rudyard Kipling's "The Jungle Book." This book brings together action, adventure and a battle between good and evil. The story is about a young boy's pet mongoose who has to protect the family from two cobras in the garden. It's a fast-paced and fun short story for a new reader who loves excitement!
The Campfire Story Fanatic
"A World Full of Spooky Stories" by Angela McAllister is a fun way for your child to learn about different cultures— while also getting their pulse racing! These 50 short stories include tales from around the world, like the serpent lady from Spain and the water dwelling Bunyip from Australia! Once your child reads a few, they'll be well prepared to take over from you in telling stories around the campfire!
The Teddy Bear Lover
For any child who's attached at the hip with a stuffed animal, "The Complete Tales of Winnie The Pooh" is a must read! These short stories for kids are heartwarming and let a child's imagination run wild with what their stuffed animal would be like if they could talk and walk too! Pooh may just be a stuffed bear… but he also has plenty of lessons to teach your child about compassion and love as well.
The Future Philosopher
You probably know Ray Bradbury for his dystopian novel Fahrenheit 451, but he has other great novels as well— including a short story that's a great read for kids! "All Summer in a Day" is a perfect read for a future philosopher, with its main message being anti-bullying. It's also a fun read for kids who love science fiction and space — this short story is set on Venus as the kid's their wait for the sun to shine for it's first time in seven years! This is a fun short story to introduce to your kids so they can fall in love with an author that they can read for years to come.